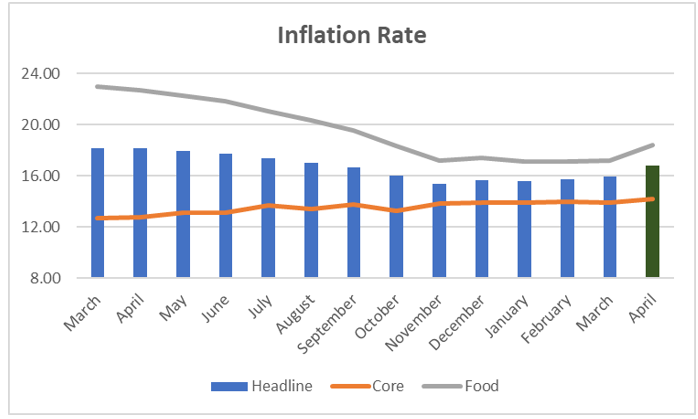 Nigeria's Inflation Rate rose to an 8-month High of 16.82% in April 2022
Headline Inflation
According to the National Bureau of Statistics (NBS) recent inflation report, the consumer price index, (CPI) which measures inflation jumped to an 8-month high of 16.82% on a year-on-year basis in April 2022 (March: 15.92% y/y). However, On a month-on-month basis, the Headline index increased by 1.76% in April 2022, 0.02% higher than the rate recorded in March 2022 (1.74% m/m). We believe higher food items and energy prices were the drivers behind the monthly uptick in headline inflation.
Core Inflation
Core inflation, which excludes the prices of agricultural produce, increased to 14.18% y/y in April 2022, up by 0.26% when compared with 13.91% y/y recorded in March 2022. On a month-on-month basis, the core sub-index increased to 1.22% in April 2022. This is up by 0.24% when compared with 0.98% m/m recorded in March 2022. The highest increases were recorded in prices of Gas, Liquid fuel, Cleaning, repair and hire of clothing, Clothing materials, other articles of clothing, and clothing accessories.
Food Inflation
Food Inflation rose to 18.37% in April 2022 compared to 17.20% in March 2022. On a month-on-month basis, the food sub-index increased to 2.00% in April 2022, up by 0.01% from 1.99% recorded in March 2022. For us, disruptions to the supply of essential food items due to the impact of the Russia-Ukraine conflict on the prices of global food items and the inability of local farmers to meet the domestic food demand caused the upward rise in food price, amidst the pre-existing structural challenges.
Outlook
We expect headline inflation to continue its upward trend in the coming months due to the supply disruptions that have ensued from the conflict in Eastern Europe which has left a mark on the local economy, given Nigeria's dependency on imported energy and food. These factors will consequently lead to an uptick in the prices of goods and services. Also, FX pressures in the FX market will further fuel inflation expectations.
On the policy end, there is the possibility of an upward adjustment in the Monetary Policy Rate (MPR), in an attempt to keep the net foreign flows positive and also signal the monetary authority's concern regarding inflation. However, the CBN could continue its current stance by judging that Nigeria's inflation has a different set of drivers and as such may not respond to monetary policy decisions. Hence, we think the CBN would call on the fiscal authorities to address the structural impediments to food supply to contain higher prices. Therefore, we expect that at the next monetary policy committee meeting, the committee will hold the benchmark interest rate constant at 11.50% in order to continue to maintain post-covid economic recovery.