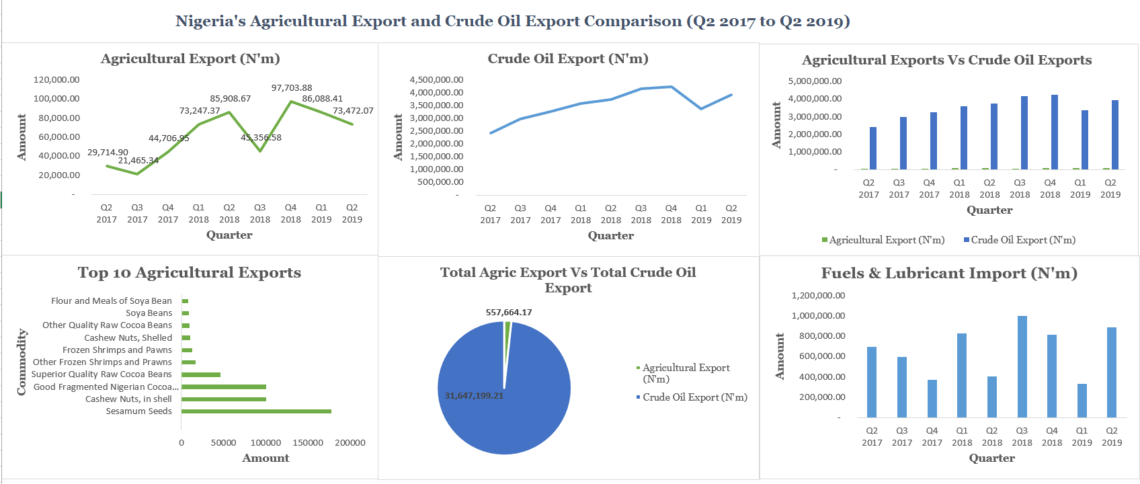 Nigeria Exports N557.66bln Worth of Agricultural Produce in Two Years as it Earns N31.65 trillion from Crude Oil Export During the Same Period
By Kuranga Abdulazeez, Gifted Hands Research / Image Credit: Gifted Hands
 Some Major Facts
1.      Nigeria's total Crude oil export in 2 years is 20% more than the country's 2017, 2018 and 2019 budgets combined.
2.     Total crude oil export in 2 years is 20% less than the amount South Africa budgets for health and education in a fiscal year.
3.     Total crude oil export is about 60% more than FG's actual oil revenue in 8 years (2011-2018).
4.     Total agricultural export in 2 years is about 14% of crude oil export in Q2 2019 alone.
5.     The country imports as much fuel as the average Federal Government oil revenue in a year.
Introduction
From economic theory, exports are the goods and services sold to other countries and they serve as a source of revenue and foreign exchange for a nation. Since the major oil glut (a situation whereby there is excess supply of crude oil relative to the demand, thereby leading to crash in the price of crude oil) occurred during the 80s, there have been call for economic diversification as the price of crude oil is volatile and over dependence on it as the mainstay of the economy can lead to having a volatile budget which will be unreliable. The present administration also through its various agricultural initiatives, reiterated its effort to diversify the economy away from crude oil while ensuring the country is well sufficient in terms of food production.
Furthermore, available data from the Nigerian Bureau of Statistics (NBS) showed that agriculture contributes about 24% to the country's GDP while Crude oil contributes less than 10%. However, in terms of revenue generation, crude oil accounts for more than 80% of the country's revenue while agriculture contributes less than 10%. In this article, we will be particularly concerned about the total value of Nigeria's agricultural export from Q2 2017 to Q2 2019 (Since Nigeria emerged from the 2016 economic recession in Q2 2017), while also looking at the drivers of country's total agricultural export and the contribution of crude oil to Nigeria's total export.
Table 1:  Nigeria's Agricultural Export Vs Crude Oil Export
 From the table above, it is clearly established that the total agricultural export for two years is not even up to 15% of crude oil export value in Q2 2019. That being said, the contribution of Agricultural exports to the total exports in each of the quarter is less than 3% while that of crude oil has always averaged about 83%. In Q2 2019, agricultural goods had 1.6% share of total exports while crude oil had 85.61% share of the total exports with N1.37 trillion worth of crude oil exported in April, 2019.
 Chart 1: Value of Nigeria's Agricultural Exports (Q2 2017-Q2 2019)
 Source: NBS, Gifted Hands Research
Over the 8 quarters, agricultural export hits the highest in Q4 2018 as the country exported agricultural goods worth N97.70bln. An increase that can be attributed to the harvesting period that booms during the last quarter of the year. During the same period, crude oil exports also hits the highest at N4.23 trillion. It is also worthy to note that agricultural exports have grown in during the two years under review as it grew by 147% from N29.71bln recorded in Q2 2017 to N73.47bln in Q2 2019.
Chart 2: Value of Nigeria's Crude oil Exports (Q2 2017-Q2 2019)
Source: NBS, Gifted Hands Research
It was also observed that crude oil exportation increased all through from Q2 2017 to Q4 2018. It however declined in Q1 2019 when it dropped from N4.23 trillion to N3.38 trillion and by Q2 2019, it grew to N3.93 trillion (representing 62% increase from in two years starting from Q2 2017).
It should be noted that the total crude oil export value does not translate to Oil revenue in the same amount as the country also imports processed fuel. For example, total crude oil export in 2018 was valued at N12.68 trillion. From this amount, 13% (accrued to the oil producing state) was deducted, thereby leaving the balance to be N11.03 trillion. Of this balance, the FG's share is 52.68% (according to the revenue sharing formula) and this translates to N5.81 trillion (However, Data from the 2018 CBN statistical bulletin showed Federally collected oil revenue in 2018 was N5.55 trillion). The rest of the money was shared by the state and local government. During the same period of 2018, the country imported processed fuel amounting to N3.05 trillion of which the net federal oil revenue amounts to N2.76 trillion.
Chart 3: Nigeria's Agricultural Export Vs Crude Oil Export
 Source: NBS, Gifted Hands Research
Over the 2 years under review, agricultural export value as a percentage of crude oil export value is approximately 1.8%. This further explains the need to intensify the efforts towards improving the productivity of the agricultural sector to serve as a major source of revenue for the country as the demand for crude oil wanes due to the transformation of economies from the use of fuel to the use of electric.
Sesame Seed (Also called Beniseed) is Nigeria's Major Cash Crop in the Last Two Years
Further analysis of the 2 years trade figures of Nigeria reveals that of the 49 items exported to other countries, Sesame seed is Nigeria's most exported agricultural commodity in the last two years as it contributes 32% to the entire agricultural export. The 49 items are listed in ascending order below:
Table 2:  49 Agricultural Products Exported in Two Years
S/N

Commodity

 
 

1

Sesamum Seeds

 

2

Cashew Nuts, in shell

 

3

Good Fragmented Nigerian Cocoa Beans

 

4

Superior Quality Raw Cocoa Beans

 

5

Other Frozen Shrimps and Prawns

 

6

Frozen Shrimps and Pawns

 

7

Cashew Nuts, Shelled

 

8

Other Quality Raw Cocoa Beans

 

9

Soya Beans

 

10

Flour and Meals of Soya Bean

 

11

Ginger

 

12

Natural Cocoa Butter

 

13

Sesame Oil and its Fractions

 

14

Other Cut flowers & flower buds

 

15

Agro Food Items

 

16

Crude Palm Kernel Oil

 

17

Other Plants and Parts of Plants used in Perfumary

 

18

Other Coconuts

 

19

Other Butter of Cocoa

 

20

Soya Bean Crude Oil

 

21

Other not frozen flours, meals fit for consumption

 

22

Nigerian Cotton Lint

 

23

Soya Beans (Exlcuding Seeds)

 

24

Ginger Neither Crusdhed nor Ground

 

25

Other Fruits, Fresh

 

26

Other Live Fish

 

27

Peanut Kernels (Groundnut)

 

28

Fat and Oil of Cocoa

 

29

Groundnuts

 

30

Frozen Cold Water Shrimps and Prawns

 

31

Broken Cocoa Beans

 

32

Mixtures

 

33

Other milk and cream powder

 

34

Onions and Shallots

 

35

Other Similar Edible Roots

 

36

CASSIA TORA

 

37

Sorghum Seeds

 

38

Maize (Corn) Starch

 

39

Peas

 

40

Sword Fish

 

41

Other animal fats and oils and their fractions

 

42

Gum Arabic

 

43

Groundnut: Others

 

44

Shea Oils

 

45

Other Starches of Pharmaceutical Grade

 

46

Wheat or Meslin Flour

 

47

Frozen Crabs

 

48

Pepper

 

49

Other Animal Products

 
Source: NBS

Chart 4: Top 10 Agricultural Exports
 Source: NBS, Gifted Hands Research
During the 2 years under review, Sesame seed topped as Nigeria's most exported commodity followed by Cashew nuts and the Nigerian Cocoa Beans, which were all exported in each of the quarters under review with the exception of the Good fragmented Nigerian cocoa beans which was not exported in Q2 and Q3 2017 but was exported from Q4 2017 to Q2 2019. Sesame seed export was highest in Q1 2019 as the country exported N39.63 worth of sesame seed during the period. Overall, the total value of Sesame seed export during the period under review was N178.17bln, while Cashew nuts export was N100.51bln and the Good fragmented Nigerian cocoa beans was N100.06bln.
Conclusion
To increase the value and revenue derived from the exportation of crude oil, then there is the urgent need to revive the working capacity of the refineries as well as intensify efforts to establish modular refineries as this will save the country an average of N3 trillion per year, which can be put into other productive uses to improve economic growth and development. It is also hopeful that when the Dangote Refinery starts working, it will help fill the importation gap and reduce the country's fuel importation capacity to the barest minimum.
On the flip side, the Nigerian National Petroleum Commission (NNPC) on October 11, 2019 announced that it has discovered crude oil in the Gongola Basin. This ultimately translates to an increase in the daily crude oil production capacity of the country once it has been finalized. However, it should be noted that as the world is switching to the use of electric power, the fortune of crude oil will be on the decline. Also, a producer can only control one of price and quantity, and not the two at the same time. In this case, the country can only control its production of crude oil as the price is beyond its power.
With more countries now producing crude oil, the power of the OPEC will begin to wane and it will not be possible to control price again by limiting supply. Therefore, crude oil tends to not be lucrative in the long run, hence the need for the country to intensify its effort in diversifying its revenue sources. However, data from the NBS has shown that the contribution of the agricultural sector to the country's revenue is still very low, hence the need for drastic measures to improve the agricultural value chain and encourage more private sector participation in the agricultural sector. That being said, it will be pertinent to recognize the Government initiatives towards developing the agricultural sector, some of which are the Anchor Borrowers Program, the Presidential Fertilizer Initiative and the Presidential Economic Diversification Initiative.
About Gifted Hands Associate
Gifted Hands is an independent economic think tank that carries out independent research on data as released by the relevant government agencies (NBS and CBN). It also assists and provide tips to undergraduates and Postgraduate students carrying out economic research work. Gifted Hands also write business plans/proposals, project financials of start-ups into the future, write CVs and cover letters, as well as Train students on the use of Economic Analysis software such as Eviews, STATA and SPSS.
For further clarifications, enquires and questions, please provide your feedback in the comment section or send us a mail at giftedhandsassociate@gmail.com
Related Articles
1.      VAT 101: Meaning of VAT Registration Threshold as Announced by President Buhari During 2020 Budget Presentation
2.     Will The Price of a Bag of Rice Fall Anytime Soon?
3.     The Monetary Trilemma as it Relates to Nigeria
4.     Nigeria's Corruption Perception Index (1996-2018)
5.     Significant Relationship among the Components of a Misery Index: The Nigerian Scenario
6.     Sesame Seed as a Nigerian Cash Crop- An Unsung Hero
7.     Simple Analysis of ORide's Business Model
8.     Analyzing Time Series Data Using Eviews: A case for Single Equation
9.   Using Excel for Data Analysis