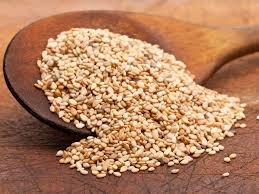 Sesame Seed as a Nigerian Cash Crop- An Unsung Hero
Image Credit: www.seriouseats.com
Basically, sesame (also known as Beniseed) can be sesame seeds and/or Sesame oil. Sesame oil is used as an ingredient in making cosmetics as it is very effective in hair growth and skin health. Sesame seeds are used to flavour and garnish various foods, particularly bread and other baked goods. According to Financial Derivative Company, Nigeria is the second largest producer of Sesame seed in Africa and fourth largest in the world (behind India and China). It contributed 36% to total agricultural export in Q1 2018 and 40% in half year 2019.
It is majorly produced in Taraba, Jigawa, Nasarawa and Benue. In addition, Nigeria has only three functional processing plants for sesame seeds (two in Kano and one in Lagos). China, Japan, Turkey, Belgium and Germany constitute the top destination of Nigeria's Sesame Exports. In the international market, sesame seeds are sold at a price range of $700 and $1800 per tone. However, it is sold at a price range of N320,000 and N340,000 at the local market. Nigeria currently produces about 580,000 tonnes and has the potential to increase the production to 1 million tonnes (Source: FDC, 2019) provided that the pastoral conflicts in the producing states are addressed effectively.
Sesame seed remains Nigeria's most exported agricultural commodity in the past few years. In the first half of 2019, the worth of Agricultural sector is put at N152.3 billion by the Nigerian Bureau of Statistics, of which Sesame seed export was N60.6 billion. Cocoa, cashew nuts and Ginger also made the top 10 list of Nigeria's export. Groundnut is not even one of the top 10 But today's school teaching is still telling us Groundnut, Cocoa and Ginger are the major cash crops in Nigeria, with Sesame nowhere to be found.