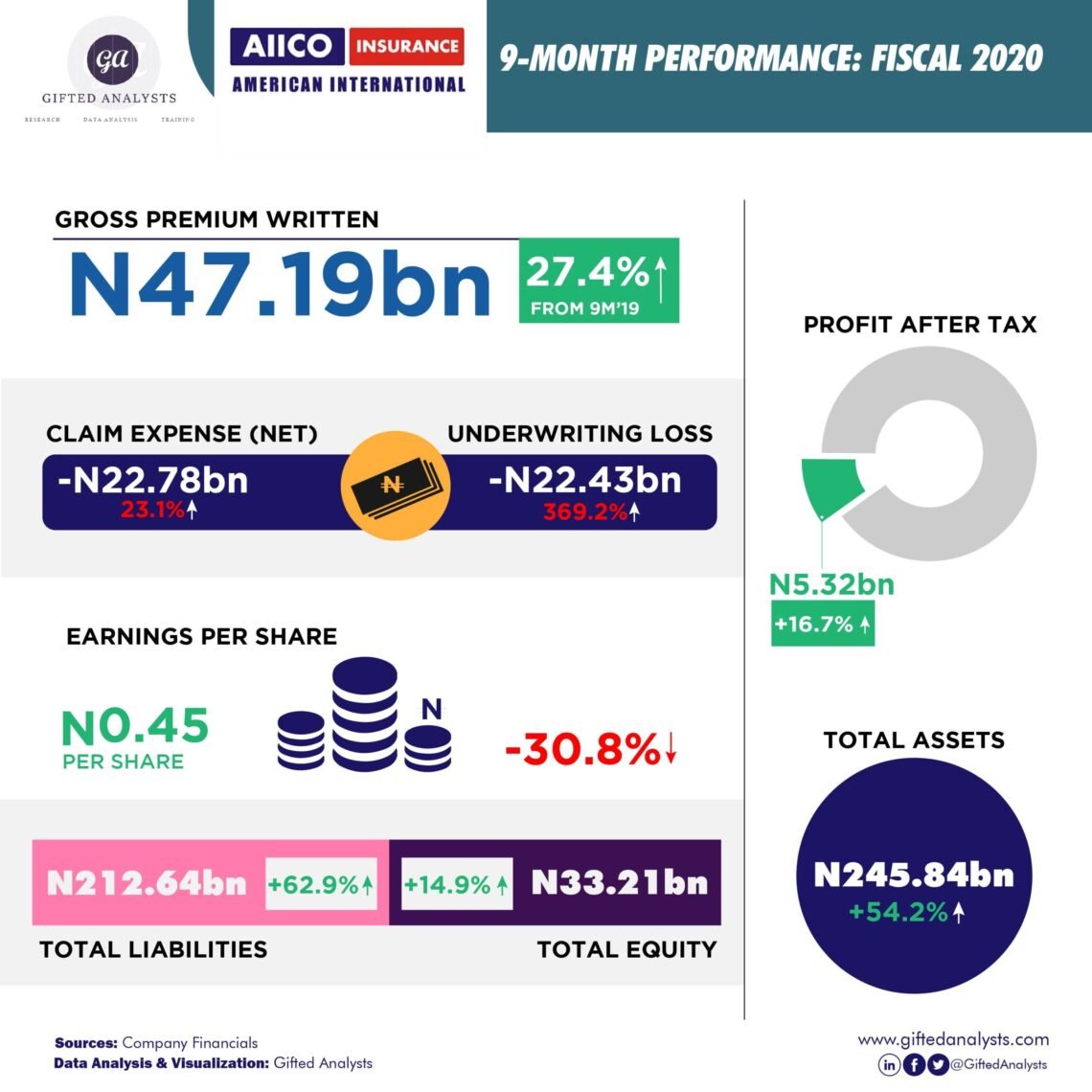 Financial Highlights of AIICO Insurance Plc in the First 9 Months of 2020
AIICO insurance plc grew its gross premium written by 27.4% to N47.19 billion in the first 9 months of the 2020. The breakdown showed improvement in premium written on all segments (non-life insurance, life assurance, annuity and health management). Life assurance (N30.2 billion vs. 9M-19: N21.63 billion) remains the top contributor to the company's top line, followed by non-life insurance (N11.23 billion), annuity (N5.19 billion) and health management (N569 million).
The company also paid more claims on a net basis, in the first 9 months of 2020 than it did in the first 9 months of 2019 as it paid more claims in the life and non-life insurance segments. For example, gross benefits and claims on life insurance contracts printed N12.96 (9M-19: N10.35 billion) and N6.92 billion (9M-19: N6.41 billion), respectively.
With profit after tax increasing by 16.7% and earnings per share declining by 30.8%, then we suspect the decline must have been due to the listing of additional shares during the year. Unpacking the activities undergone by the company in 2020, we note that it listed additional 4.4 billion ordinary shares in February 2020 and that was done through a private placement. The shares were sold at N1.20 kobo per share to LeapFrog III Nigeria Insurance Holdings Limited.
Total assets increased by 54% majorly due to the N2.2 billion as asset classified as held for sale – cash and cash equivalents (N937.2 million), financial assets (N597 million), trade receivables (N419 million), other receivables and prepayments (57 million), goodwill and other intangible assets (N47 million) and property and equipment (N147 million). The 54% increase in total assets was also influenced by 54% increase in financial assets (N194.32 billion vs. Dec-19: N126.83 billion).