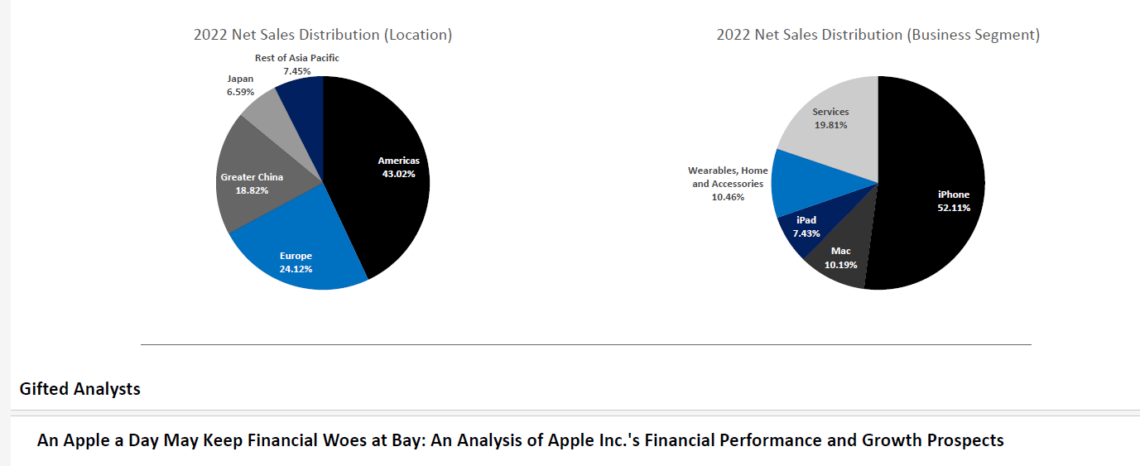 An Analysis of Apple Inc.'s Financial Performance and Growth Prospects
Company Overview
Apple Inc (AAPL) is a prominent multinational technology corporation based in Cupertino, California Established in 1976 by Steve Jobs, Steve Wozniak, and Ronald Wayne, the company is presently headed by CEO Tim Cook, who took over the role in 2011 after serving as Apple's Chief Operating Officer under Jobs.
The company specializes in the design, development, and sale of consumer electronics, computer software, and online services Its range of products includes smartphones, tablets, personal computers,
portable and wearable devices, software and associated services, accessories, and digital content and applications from third parties Apple is recognized for its popular products such as the iPad Air, MacBook Air, Apple Watch Series 6 iPhone Pro, Apple TV 4 K, and Apple Air Pods Pro, which are distinguished by their elegant design, robust processing power, and extended battery life.
Apple is the largest technology company in the world in terms of revenue and market capitalization and is
among the Big Five American information technology companies, which also includes Alphabet (Google), Amazon, Meta (Facebook), and Microsoft. The Americas is Apple's biggest regional market, encompassing both North and South America. Other significant markets include Europe (comprising European countries as well as India, the Middle East and Africa), Greater China (encompassing mainland China, Hong Kong, and Taiwan), Japan, and the Rest of Asia Pacific (including Australia and other Asian countries not included in the company's other reportable segments).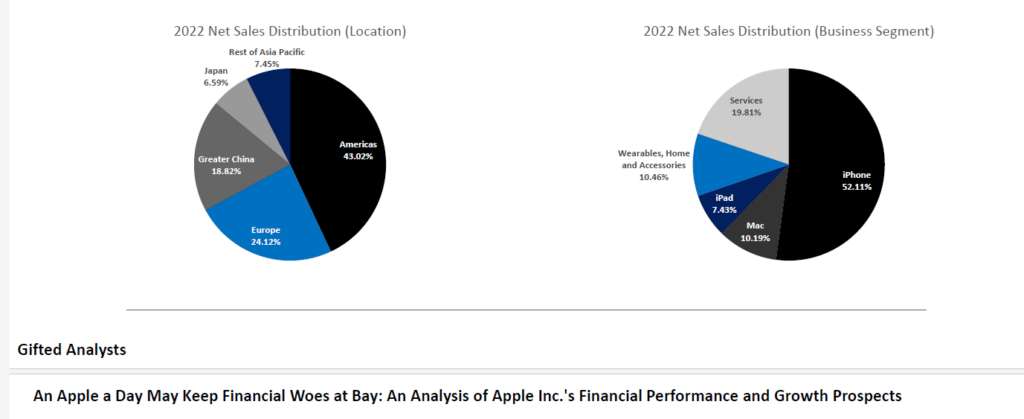 Apple generates revenue from both Products and Services Product sales comprise iPhone, Mac, iPad,
Wearables, Home devices and Accessories while Services net sales are derived from sources such as
iTunes (the company's online entertainment library), software sales, digital content sales, AppleCare
support services, Apple Pay transactions and licensing fees.
Please download the full report below: