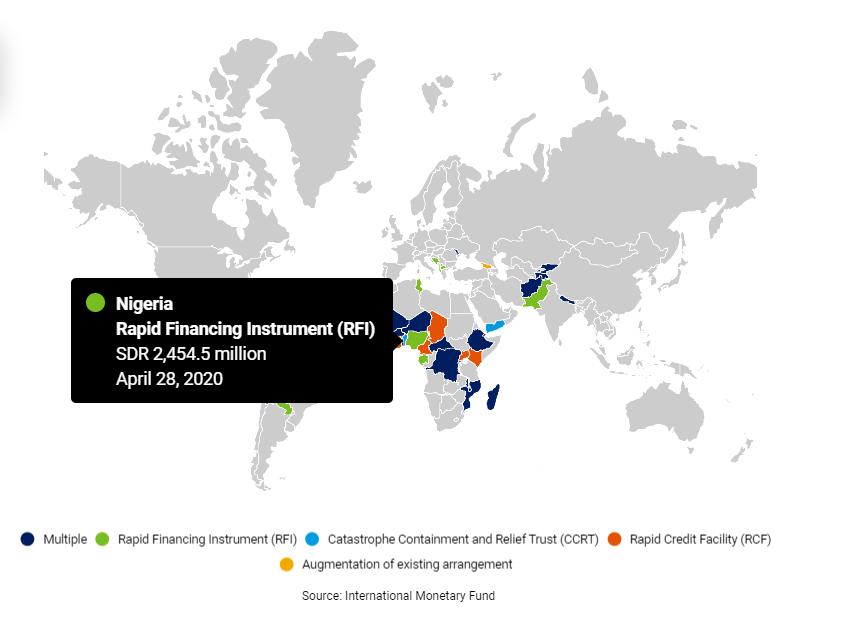 Nigeria's Policy Responses (as at 8th May, 2020) to COVID-19
Culled from the International Monetary Fund / Image Credit: IMF
Background
Nigeria has been severely hit by the spread of COVID-19 and the associated sharp decline in oil prices. Government policy is responding to both these developments. The authorities have reported 3145 cases of COVID-19 and 103 deaths as of May 7, 2020. A range of measures have been implemented to contain the spread of the virus, including closure of international airports, public and private schools, universities, stores and markets, and suspension of public gatherings. A "lockdown" was declared in Lagos, Abuja and Ogun states. Work at home is also encouraged in several states and government institutions while isolation centers are being expanded in Lagos state. Testing capacity has been increased to 2500 per day. The president ordered the release of inmates in correctional facilities to decongest prisons. On May 4, a six-week phase-out period of the lockdown began. However, new nationwide measures were introduced, including nighttime curfew, ban on non-essential inter-state passenger travel, partial and controlled interstate movement of goods and services, and mandatory use of face masks or coverings in public.
Fiscal Policies
Contingency funds of N984 million ($2.7 million) have been released to Nigeria's Center for Disease Control, and an additional N6.5 billion ($18 million) was distributed for purchasing more testing kits, opening isolation centers and training medical personnel. Grant of N10 billion ($28 million) was released to the Lagos State to increase its capacity to contain the outbreak. The government is reviewing its 2020 budget and, given the expected large fall in oil revenues, announced plans to cut/delay non-essential capital spending by N1.5 trillion (close to 1 percent of GDP). A fiscal stimulus package in the form of a COVID-19 intervention fund of N500 billion ($1.4 billion), has been approved by the President to support healthcare facilities, provide relief for taxpayers, and incentivize employers to retain and recruit staff during the downturn. Import duty waivers for pharmaceutical firms will be introduced. Regulated fuel prices have been reduced, and an automatic fuel price formula introduced to ensure fuel subsidies are eliminated. The President also ordered an increase of the social register by 1 million households to 3.6 million to help cushion the effect of the lockdown.
Monetary and Macro-Financial Policies
The Central Bank of Nigeria (CBN) maintained its current monetary policy rate in March but introduced additional measures, including: (i) reducing interest rates on all applicable CBN interventions from 9 to 5 percent and introducing a one year moratorium on CBN intervention facilities; (ii) creating a N50 billion ($139 million) targeted credit facility; and (iii) liquidity injection of 3.6 trillion (2.4 percent of GDP) into the banking system, including N100 billion to support the health sector, N2 trillion to the manufacturing sector, and N1.5 trillion to the real sector to impacted industries. Regulatory forbearance was also introduced to restructure loans in impacted sectors. The CBN is also coordinating a private sector special intervention initiative targeting N120 billion ($333 million) to fight COVID-19. As of April 16, N42.6 billion was received, including $50 million grant from the European Union.
Exchange Rate and Balance of Payments
The official exchange rate has been adjusted by 15 percent, with an ongoing unification of the various exchange rates under the investors and exporters (I&E) window, Bureau de Change, and retail and wholesale windows. The authorities committed to let the I&E rate move in line with market forces, and it has so far depreciated by about 4 percent. A few pharmaceutical companies have been identified to ensure they can receive FX and naira funding. While I&E window turnover has been low since April, the CBN has resumed FX supply in some of the other windows.