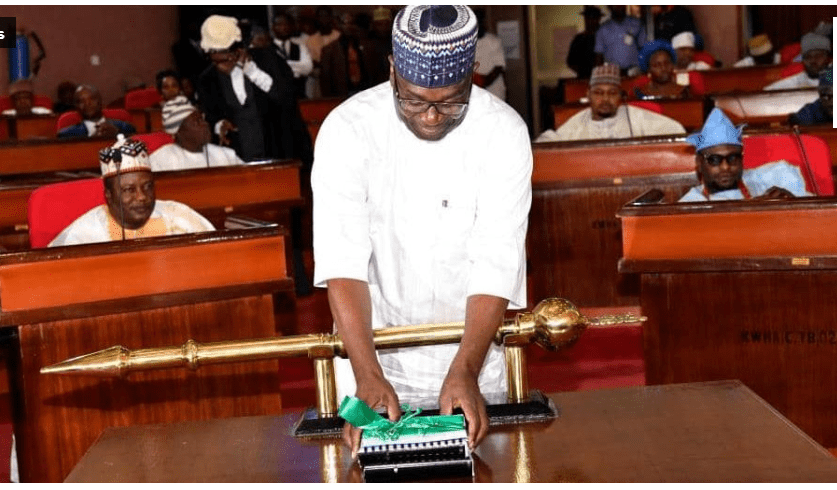 Kwara State 2020 Budget: Good Intentions, Faulty Assumptions
***Our Data Analysis Master Class 3.0 Holds on 11th & 12th January, 2019. Register Here ***
"The broad objective of 2020 Budget is to reposition the socioeconomic activities of the State to rapidly move the state forward through strategies designed to steadily bridge the huge infrastructural gap in the state and put in place relevant and pro-business policies in a bid to attract and sustain investors' confidence for socio-economic development in the state. To this end, the 2020 Budget is themed 'Budget of Reconstruction and Reformation' with the focus to rebuild the ruins of the past while reforming the future of our people."- Governor Abdulrahman Abdulrazaq
Total Revenue seems to be Overstated Given Current Performance
Total revenue as at October 2019 was N85.12 billion which shows that revenue underperformed by 34.69% when compared with N130.38 billion projected revenue for 2019. Total expenditure as at October 2019 on the other hand, was N77.37 billion which also underperformed by 40.66% when compared with the projected expenditure of N130.38 billion for 2019. This showed that total revenue and total expenditure performance of Kwara state as at October 2019 were 65.31% and 59.34% respectively and it explains the government performed more in collecting revenue than in spending money as at October 2019. As such, budget surplus as at October 2019 amounted to N7.75 billion of which N7 billion will be carried forward to 2020 as explained by the Governor in his budget speech.
The Kwara State government proposes it will earn more from Federal Allocation in 2020 than in 2019. The federal allocation according to the state government will consist of statutory allocation at N48.94 billion, Value Added Tax at N16.43 billion and other sundry revenue amounting to N3.84 billion. The state government as at October 2019 earned N41.37 billion from this source against N54.02 billion it proposed to earn from it in 2019. Given this, and expecting more revenue to be generated by the federal government in 2020 given its finance bill, we expect revenue from federal allocation will increase (other things being equal) but it will not translate to a proportionate increase in states allocation. As such, it is not expected for the Kwara state to earn such amount of money from federal allocation in 2020.
For Internally Generated Revenue (IGR), the Kwara state government is proposing that the Kwara State Internal Revenue Service (KWIRS) will earn N18.08 billion, which is 3.4% greater than the 2019 estimates, keeping in mind that the KWIRS was only able to generate N11.95 billion as at October 2019. Furthermore, the state government proposes that revenue to be generated by the MDAs will increase in 2020 by 43% to N9.39 billion while Parastatals and Agencies of the state government will generate N12.31 billion in 2020. It should be noted that as at October 2019, revenue generated by the MDAs and parastatals were N4.40 billion and N10.26 billion respectively.
One key feature of the proposed capital receipts of Kwara State government in 2020 is that the government expects to get N33.62 billion (21% of total revenue) from Aids and grant. We therefore see this as a risky assumption as aids and grant are expectations that may never come. And tying 1/5 of the total revenue to this source raises a question on the government being able to meet its revenue target in 2020, which will ultimately affect its expenditure.
Lastly, the state government expects 98% drop in other revenue as it is not expecting any amount to come from extra expected revenue while Local Governments Salary Bailout (Loan Repayment) is expected to drop by 24.3% to N193.32 million in 2020 from N255.23 million in 2019.
Total Expenditure is Overambitious
While total recurrent expenditure recorded 74% performance (under performed by 26%) as at the end of October 2019, capital expenditure under performed by 60% during the same period. Total capital expenditure was N25.11 billion in 2018 and N23.19 billion as at the end of October 2019, but the state government is proposing to spend N85.41 billion on the same capital expenditure in 2020.
With the budget being designed essentially to redirect capital and infrastructural development in order to enhance the well-being of the people of Kwara state, capital expenditure therefore was allocated 53% of the total budget and this represents 49.53% increase from the 2019 capital expenditure estimate of N57.12 billion. Recurrent expenditure however is 42% of the total budget while debt servicing takes the remaining 5% at N8.24 billion.
Of the total capital expenditure, economic affairs takes the largest share at N32.75 billion, representing 38% of the total capital expenditure, followed by health at N24.95 billion and Education at N11.47 billion. It is however pertinent to note that as at October 2019, N4.35 billion was spent on economic affairs while N13.29 billion and N2.45 billion were spent on health and education respectively.
Kwara State Top 10 Sub-Sectors by Recurrent Expenditure
Kwara State currently owes N61.3 billion in domestic debt and $47.9 million in foreign debts. Excluding public debt charges of N9.08 billion, the ministry of finance will be spending N6.996 billion on recurrent expenditure (N6.46 billion for overhead cost and N537.83 million for personnel cost).
Excluding the payment of pension and gratuities (N8.36 billion) for workers in the state, the office of head of service in Kwara state will be spending N1.50 billion on personnel and overhead costs in 2020.
Recurrent expenditure of Kwara state in 2020 is structured in such a way that the sub-sectors bringing in more money for the state, has more money to spend on itself for recurrent purposes. For example, the KWIRS will generate more revenue (N18.08 billion) for the state than all the other sub-sectors according to the 2020 budget estimates while the Governor's office will generate N3.60 billion for the state in 2020. An exception of which is the Ministry of finance which will generate N32.11 million in recurrent revenue for the state in 202. The Illustration below provides a summary of the top 10 sub-sectors the will be spending more on recurrent expenditure in Kwara State for the year 2020.
Based on the Data Obtained from Kwara State Government
Kwara State Top 10 Sub-Sectors by Capital Expenditure
In terms of capital expenditure, the ministry of health tops as the sub-sector with the highest allocation. Majority of the fund for the ministry of health in 2020, would be spent on acquisition of non-tangible assets for Neglected tropical diseases at N7.26 billion and Federal Ministry of Health (NPI activities) at N7.5 billion. This is coming on the need to treat tropical diseases in the state as evident from N6.88 billion spent on neglected tropical diseases as at October 2019, against the estimated figure of N1.26 billion. This is a very good one that must be commendable. The ministry of health will also be spending N1 billion on the purchase of medical equipment as well as N1.5 billion on the rehabilitation and repairs of hospitals and health centers across the state, while N2 billion would be spent on Harmony Advance Diagnostic Center.
Next in the rank of top 10 sub-sectors in terms of capital expenditure, is the Kwara state ministry of works and transport. Of the total N14.02 billion to be spent on capital expenditure by the ministry, it will spend N4.32 billion on Rural Access and Agricultural Marketing Projects (RAAMP), N3.02 billion on the construction and provision of new roads, N1 billion on the construction of rural roads, and N2.33 billion to pay contractors on on-going projects, all of which constitute the top projects by amount to be spent by the Kwara state ministry of works and transport.
Based on the Data Obtained from Kwara State Government
From the top 10 sub-sectors by capital expenditure above, it is clear that the present administration of Kwara state means well for the state in terms of health, education, agriculture and provision of infrastructural facilities. Only two public services entered the top 10 by capital expenditure and they are the Governor's office as well as the office of the head of service.
Conclusion
From the foregoing, it can be seen that the budget was designed to fulfill the purpose of bridging the infrastructural gap and repositioning the state to attract investors as explained by the Governor. Hence, the budget can be said to live up to its name- Budget of reconstruction and reformation. Based on the actual expenditure and revenue as at the first 10 months of 2019, the estimated 2020 revenue sources and expenditure tends to be flawed and seeking one-third of revenue to come from capital receipts for a state that attracted close to zero foreign investment in 2019 tends to raise questions.
Can the budget live up to its expectations come December 2019?
Please provide your comments in the comment section. Additionally and should you need data backed research and analysis for your business or research needs, you can send us a mail at info@giftedanalysts.com