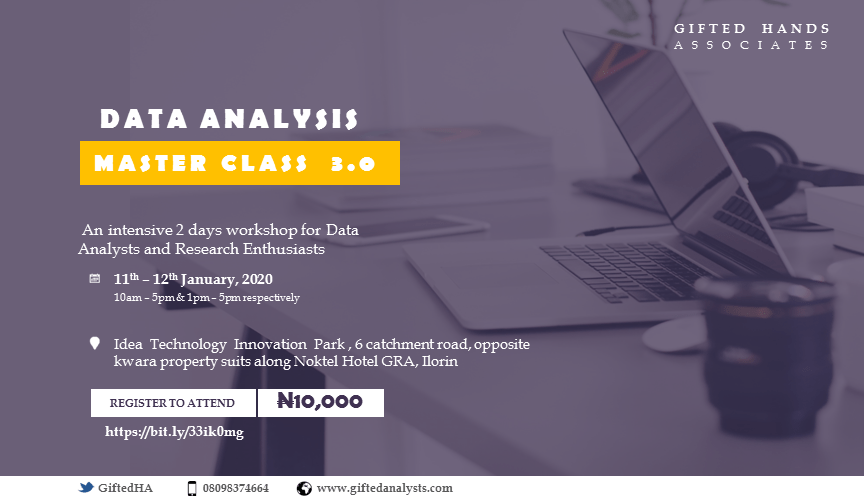 You are Invited to our Data Analysis Master Class 3.0
Dear Research Enthusiasts and Data Analysts,
It is our pleasure to invite you for the third edition of our Data Analysis Master Class aimed at equipping participants with the practical knowledge of being comfortable at using Microsoft Excel, SPSS and Eviews for Data analysis.
As we all know, in the last two years, Gifted Hands Associates has created a network and brought together over 50 participants yearly (21 April, 2018 and 12 January, 2019) by teaching them the use of SPSS, Eviews and STATA for analysis. Participants cut across researchers in the universities, graduates seeking career in data analysis and economic analysts in parastatals.
Due to the gap in the knowledge of excel, this year's master class therefore includes Microsoft Excel in the tools to learn and is scheduled to take place for two days- 11th and 12th January, 2019.
At the end of the two days training session, participants are expected to know:
Microsoft Excel:
Basic Calculations in Excel including Vlookup
Data filtering, Named Ranges and using shortcuts in Excel
Creating stellar charts for analysis
Pivot tables and Dashboard for Analytics
SPSS:
Questionnaire Design
Data entering and coding
Frequency Distribution and descriptive statistics
T-test, chi-square, ANOVA, and regression analysis
Eviews:
Time series and panel data design
Unit root tests
Tests for co-integration
ARDL Bounds test
Fully Modified Ordinary Least Squares (FMOLS)
Post estimation/ Residual Diagnostic Tests
To be clear, you cannot be an expert in 2 days but you can become comfortable with using Excel, SPSS and Eviews for Data Analysis.
Are you ready to learn and ready for the Data Space? Then please find the details of the training as provided below:
Venue: Idea Technology Park, Opposite Kwara Property Suits, Ilorin, Kwara State
Date: 11th & 12th January, 2020
Time: 10am to 5pm & 1pm to 5pm respectively
Training Fee: N10,000 (Certificate and light refreshment inclusive)
Please confirm your participation by registering through the link below:
For further enquires and reservations, please contact Azeez on 08098374664 or Joshua on 08162182493
The team looks forward to welcoming you at the 2020 Data Analysis Master Class.