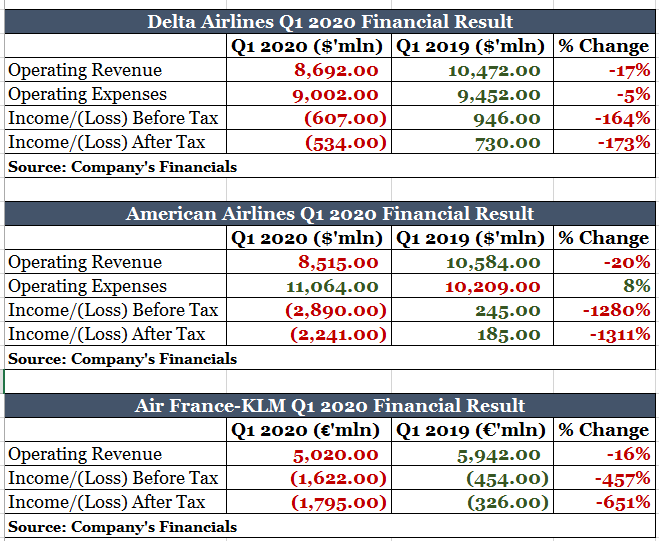 In their Numbers; Financial and Job Losses in the Aviation Sector Around the World
Due to the outbreak of Covid-19, countries have resorted to restricting movements, closing their borders as well as closing down the domestic economy (with the exception of essential services being allowed to move). Elsewhere, there was an oil price war between Saudi Arabia and Russia, which sent the price of headline crude oil to the lowest since 2002 while the price of WTI went negative for the first time due to storage problems. A major result of the different measures was halting of the operations of global airlines, limited activities of domestic airlines, which have reduced the demand for crude oil to a very low level. The International Energy Association (IEA) projects global demand for crude oil to drop by 29 million barrels per day.
Related: In Their Numbers: How Coronavirus is Affecting the Global Economy
Since the end of March 2020, airline operators have embarked on laying off their workers as cash flows were not coming in. they have also reported huge decline in their earnings. American Airlines in specific are said to be losing more than $10 billion in cash every month due to the current situation. In the United States, more than 3,000 aircraft have been grounded and this is about 51% of the active fleets of airlines in the United States.
The Losses in their Numbers
Delta Airline
For Delta Airlines, total revenue was down by 17% in the first quarter of 2020 (Q1 2020) as the company recorded $8.6 billion in revenue. There was also no profit sharing during the quarter (compared to $220 million in Q 2019) as the company recorded a net loss of $534 million (compared to net income of $730 million in Q1 2019) mainly brought about by increase in costs related to salaries, depreciation and contracted services.
Looking forward, the company says that as a result of the travel restrictions and stay-at-home orders, it expects the Q2 revenue to plummet by 90% when compared to the revenue in Q2 2019. On the expenses side, Delta Airlines expect costs to decline by 50% (approximately $5 billion) in Q2 2020, and this will be due to reduced capacity, lower fuel and cost initiatives including parking more than 650 aircraft, Consolidating airport facilities, with temporary concourse and Delta Sky Club closures, Instituting a company-wide hiring freeze and offering voluntary leave options with 37,000 employees (41% of total employees) taking short-term unpaid leave as well as reducing salary expense through pay reductions for executive management and reduced work schedules across organization.
American Airline
American Airlines which operates about 6,800 flights in a day to about 365 destinations in 61 different countries, reported $2.24 billion net loss (first loss since 2013) in the first quarter of 2020. Revenue from passenger flights dropped by 20.5% to $7.68 billion as cargo flights revenue plummet by 32.7% to $147 million while revenue from other sources declined by 2.9% to $687 million from $708 million recorded in Q1 2019. According to the CEO of the Group, the airline has never before faced such a significant challenge as it is facing now. Total operating expenses however grew by 8.4% to $11.06 billion in Q 2020 (compared to $10.21 billion in Q1 2019) and this was aided by growth in expenses related to other rent and landing fees, other expenses as well as depreciation and amortization.
Going forward, American airlines expect to burn through $70 million per day in cash and in June, it expects it to narrow down to $50 million to be lost per day. This is because it expects a reduced system capacity by 80% in April and May while system capacity is estimated to be reduced by 70% in June. Just like Delta Airlines, about 39,000 American Airlines employees (approximately 30% of total employees) have volunteered for partially paid leave as well as unpaid leave.
Air France-KLM
In France, Air France-KLM reported 16% decline in operating revenue even as passenger unit revenue went up marginally by 0.8% at the end of February 2020. Operating revenue went down to €5.02 billion in Q1 2020 from €5.94 billion in Q1 2019. Majority of the total costs associated with operation were also down during the period under review while the company recorded a loss of €861 from operating activities. Consequently, Loss After Tax for Air France-KLM during the first quarter of 2020 was €1.80 billion.
Transvania (a part of the France Airline group), has already been grounded since late March and this is expected to last until 27th May. For the Group, all the airlines have been operating at about 5% in April and it expects to be at that level throughout Q2 2020. As such, the Group expects system capacity to be reduced by 80% in Q3 2020, which means it only expects to be operating at 20% level in Q3 2020. The company also expects to cut its costs up to €500 million in full year 2020, as well as termination of most of the temporary contracts. Lastly, operational cash burn for Air France-KLM after protection measures, is expected to be €400 million per month in Q2 2020.
What is Brewing Elsewhere?
According to Lufthansa group, it expects to post about €1.2 billion loss in adjusted Earnings Before Interest and Tax (EBIT) by the time it will release its Q1 2020 financial results on 25th May. Based on the preliminary results, Lufthansa Group expects operating revenue in March to fall by about 50% to €1.4 billion while Q1 2020 total operating revenue were down by 18% to €6.4 billion. Beyond the current repatriation flight schedule, preliminary statements show that it is not possible to foresee when the group airlines will be able to resume operations.
In Africa, reports have it that South African Airways has fired all its staff with effect from 30th April as the government has declined the Airways request for additional funding in order to remain afloat, in addition to disallowing foreign financing of a business rescue plan. It should however be noted that the South African Airways was already struggling prior to COVID-19. With the global pandemic, the woes of the Airways became double-fold as countries began flight restrictions as a measure to limit the spread of the virus.
With effect from 1st April, the Kenyan Airways had also sent some of its workers on a compulsory paid leave while the management team were subjected to 75% pay cut.
In Nigeria, Arik Air enforced a leave without pay until further notice for 90% of its workers (starting from 1st May, 2020). For the month of April, staff of the organization were only paid 20% of their salaries as the Managing Director explained that the review was as a result of the revenue stream of the company plummeting by 98%.
For questions, opinions, corrections and contributions, please drop them in the comment section. You can as well contact the writer on Twitter @K2ice_JR
Additionally and should you need data backed research and analysis for your business or research needs, you can contact us with your message in the comment section or send a mail to info@giftedanalysts.com