H1'20 Review of Activities in Nigeria Equities Market
Stock exchanges are important to today's economies as blood is to the human body. Providing a medium to channel capital from the supply side to the demand side as well as financial instruments where investors can make speculative gains.
Although Stock bourses are forward looking in nature, they generally portray the momentum of the economy. An upward trend could signal investors' confidence in the market while otherwise could mean sell-offs and economic activities are going south.
Series of events from Coronavirus pandemic and partly by Russia-Saudi oil war have caused gross uncertainty in the financial markets. When crude oil prices hit rock-bottom, all major US indices fell more than 7% from March 2nd-6th, 2020.
An insight into the stock market could shed significant details into how its host economy is faring. In narratives, a review of the Nigerian Stock Exchange (NSE) could shed light into the Nigerian economy and how it has fared.
Insights of the Nigerian bourse
The Nigerian exchange is one of the leading exchanges in Africa. The domestic bourse has a market capitalisation of ₦28.8 trillion ($75.8bn) and 331 securities listed on the market distributed within three markets; Equity (₦13.2 trillion), Bonds (₦15.8 trillion) and Exchange Traded Funds (ETFs) ₦148bn as at as at 13th Aug. 2020
The Nigerian All-share index (ASI) tracks the overall performance of the equities market. It is the broadest index used to measure how well the market is performing. As at 13th Aug. 2020, the Year-to-Date (YTD) return of the index is in negative (-6.00%). The index could provide significant insight into the momentum of the market and economy at large.
All-Share Index (ASI)
The market began the year on a bullish run rising 10.3% from 26,867.79 (2nd Jan., 2020) to 29,633.58 on Monday, 13th Jan., 2020. The market continued its momentum rising to its All-year high 29,710.56 gaining 10.6% YTD (as at Jan. 20th, 2020).
Taking the pandemic as a hoax, little did we know how devastating its effect would be. From its All-year high (Jan. 20th) the market began a bearish run closing the month of January at 28,843.53 (-2.9%below the year high).
Sell-offs from foreign portfolios worth ₦46.5bn accounting for 66.13% of total Foreign Portfolio Investment (FPI) dragged the index to close -2.9% from its year high as foreign investors were looking to move their funds to safe havens (advance and safer financial instruments) amid concerns of outbreak from Wuhan, China. It was not until 11th of March when massive sell-offs began. Daily volume totaled a record of 1.39bn transactions dipping the index by 4.91% to close at 23,572.75 worsening its YTD return to -12.2%.
The index closed the month of March at 21,300.47dipping 26.15% from January 2nd, 2020. Q1'20 market value also dropped by ₦1.87 trillion to close the period at ₦11.1 trillion from ₦12.971 trillion.
Q1'20 market outlook was topsy-turvy largely due to the pandemic and crash in Nigeria's most important commodity. Oil plunged more than 65% during the first three months of 2020, registering its worst-ever quarter. Brent Crude also recorded its worst-ever monthly performance in March, falling over 54%.
Q2'20 (April-June) was ushered in during the Great Lockdown, as economic activities were at standstill. The index fell to its All-year low on April 3rd, 2020 due to the impact of the lockdown. Since then, the market has rallied a bullish momentum improving its Q2 return to 14.8% although its YTD return was still very low (-8.8% YTD). The bourse market capitalisation also improved by ₦1.7trillion to close H1'20 at ₦12.8trillion.
How Investors Participated on the Exchange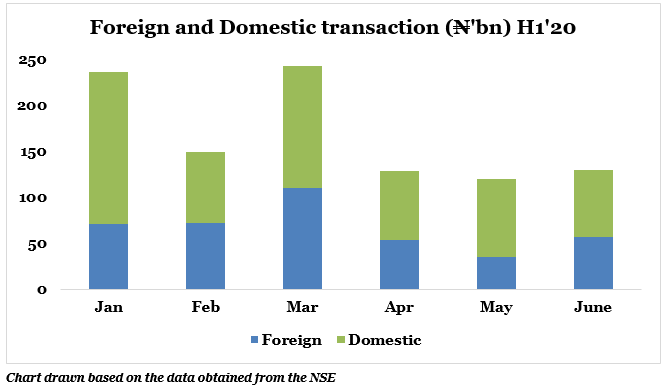 Total transactions carried out on the exchange dipped by 37% to ₦148.5bn in February from ₦235.5bn in January. We attribute this to the massive clear out by locals as domestic transactions fell by -53.3% from ₦165.14bn in January to ₦77.16bn in February coupled with the need to move to safe havens by foreign portfolio holders following the confirmation of Coronavirus index case in Nigeria and uncertainties surrounding the economy.
Domestic transactions dipped significantly in the month of February as net portfolio by retail investors decreased by 56% from ₦44.7bn in January to ₦19.8bn in February due to the fear that the pandemic could shatter the economy.
Foreign transactions grew between January and March from 30% in January to 48.04% in February and 45.37% in March. The increase in transactions is attributed to sell-offs by FPI as inflows dipped significantly by -20% while FPI outflows increased by 13%.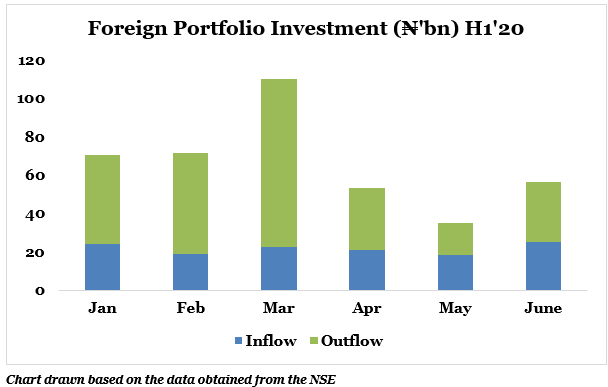 Foreign investment inflow into the country between January and March was ₦65.27bn as against ₦186.6bn that was withdrawn by FPI holders. The market saw massive clear out in month of March when net FPI hit -₦65.24bn following the presidential directive on restrictions in movements and lockdown of the economy.
Domestic investors are not sitting idle either, with total local transactions increasing by 72% to ₦132.7bn (Mar.) from ₦77.16bn in February. Domestic inflow increased by 78% to ₦98.31bn led by institutional investors growing from ₦35.6bn (February) to ₦55.5bn in March 2020 on the ground of bargain hunting due to low share prices.
With the ease in government restrictions, the market began its slow recovery in the second quarter attracting ₦64.68bn foreign inflow, although ₦0.59bn lesser than its previous quarter. ₦80bn was also withdrew by foreign portfolio holders in the period under review, ₦106.bn lesser than what the market experienced in the previous quarter. The exchange has been relatively stable since April with total transaction averaging ₦130bn without any outlier in the market
The pandemic has its cons and pros. While some sectors such as communication, healthcare and utility have benefited robustly from the pandemic, others are languishing and begging for serious bailout from the government.  Dire shortage of dollars is keeping foreign investors on the sidelines due to the complicated nature of the country's forex market. Domestic investors are avoiding the market given the poor outlook for the economy because of the Covid-19 pandemic and the effect of lower oil prices on Africa's largest producer of crude oil. They are also nervous about potential shocks from the Naira exchange rate, with expectation of a potential further devaluation between ₦400 and ₦410. The collaborative policy reforms been undertaken by the CBN and FG is therefore needed to overhaul the Nigerian economy to attract the necessary foreign investors as well as sweetening financial instruments to attract local participants.
For questions, opinions, corrections and contributions, please drop them in the comment section. You can as well contact the writer on Twitter @SheriffHolla
Additionally, should you need data backed research and analysis for your business or research needs, you can contact us by sending a mail to info@giftedanalysts.com