Analysis of the Financial Performance of MTN Nigeria Communications Plc in Half Year 2020
The Nigerian telecommunications industry is one that has witnessed tremendous growth in the last 2 decades following the deregulation and liberalization of the sector. From contributing a negligible 0.1% of Gross Domestic Product (GDP) in 1999, the sector printed ₦2.3trn accounting 14.30% of total GDP in Q2'20. The sector has been by far one of the most resilient sectors contributing positive growth to GDP leveraging on Nigeria's rapidly growing population.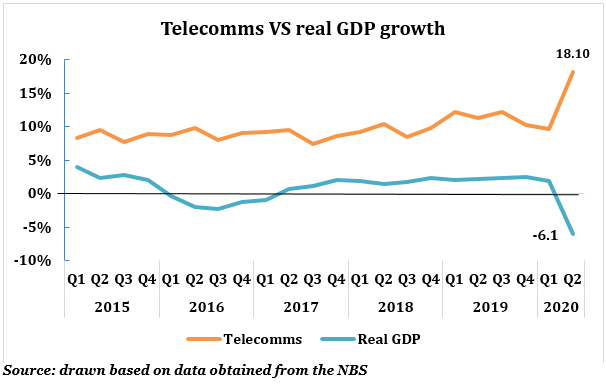 The Coronavirus pandemic has disrupted the global economy, Nigeria inclusive. However, one of the major beneficiaries of the pandemic is the telecommunications industry. Lockdown directives and work from home policies in vogue caused a spike in demand for virtual communications, internet services, and teleconferencing.
Nigeria's telecommunications industry also benefited from the pandemic printing 18.10% real growth in Q2'20 when the economy shrank 6.10% in Q2'20 and on its trajectory to the second recession in less than 5 years.
Nigerian Telecommunications Industry – Market overview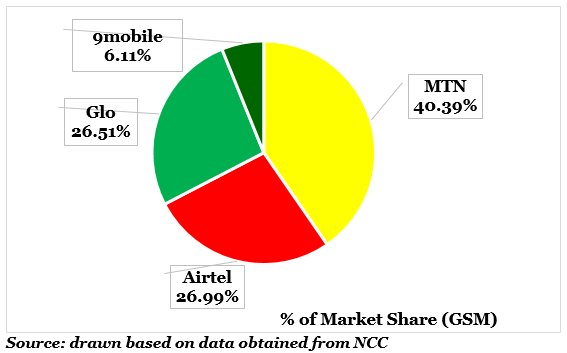 According to the data obtained from the Nigerian Communications Commission (NCC), the subscribers in the industry is largely dominated by GSM users (99.8%), Fixed (wired/wireless) users (0.05%), and Voice over Internet Protocol (VoIP at 0.12%).
The data showed that GSM users totaled 198.9 million mobile subscribers in Nigeria as of July 2020. MTN Nigeria led the market with a 40.39% lion share, followed by its fiercest competitors Airtel (26.99%) and Glo (26.51%). 9mobile (formerly Etisalat) has the lowest GSM subscribers 12,163,330 representing 6.11% of the entire market share.
On track to attaining its tremendous ₦1trillion revenue annually, an insight into the nitty-gritty of the performance of Nigeria's leading telco (MTN Nigeria) should shed light on how Telecos have fared during and after the lockdown.
MTN Nigeria Communications PLC
With a Network infrastructure value of ₦1.04trillion (Network infrastructure netbook value at 493.62bn) and total assets valued at ₦1.74trn as of June 2020. MTN Nigeria Communications PLC together with its subsidiaries (XS Broadband Limited, Visafone Communications Limited, and Yello Digital Financial Services Limited) carry on the business of building and operating GSM Cellular Network Systems and other related services (Provision of broadband fixed wireless access service, high-quality telecommunications services and mobile financial services (fintech) nation-wide in Nigeria.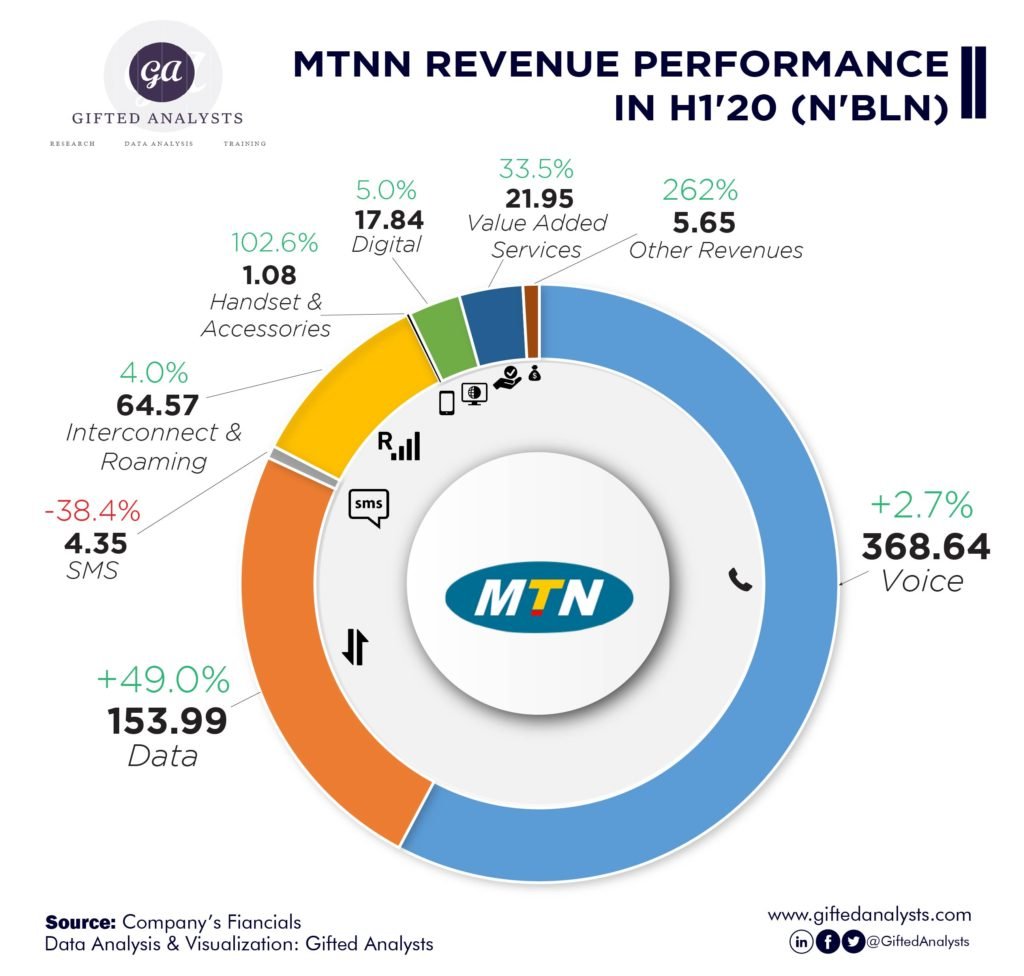 Review of the Performance of MTN Nigeria for H1'20
MTN Nigeria increased its subscribers base by adding 6.8m to its network totaling 71.1m mobile subscribers as of June 2020. Total revenue generated was up by 12.5% (y/y) to ₦638.08bn for the first half of the year, compared to ₦566.95bn generated in the same period in 2019. Growth in revenue was largely driven by a 12.6% increase in revenue from Services provided which accounted for 99.8% of total revenue (₦636.99bn).
Service revenue included revenue from its core activities of providing voice calls, data services, digital platforms, fintech (MoMo), and Other services (SMS, USSD, etc.).
Interestingly, growth from its Service revenue was driven by double digits revenue recorded in Data service (57.6%) and Fintech platform (29.6%). Revenue from Data service grew to ₦154bn (compared to ₦97.8bn in H1'19) while Fintech service printed ₦21.3bn compared to ₦16.5bn (y/y). The slowest growth was seen in Voice service revenue growing by 2.8% from ₦432bn to ₦421bn (y/y). 121.8% increase was recorded in its Digital service platform from ₦1.9bn to ₦4.3bn (y/y). However, revenue from Other services plunged -13.8% (y/y) to ₦25.1bn. Declined Other Services revenue plunged due to free SMS service rolled out by MTN Nigeria during the period as palliative to Nigerians.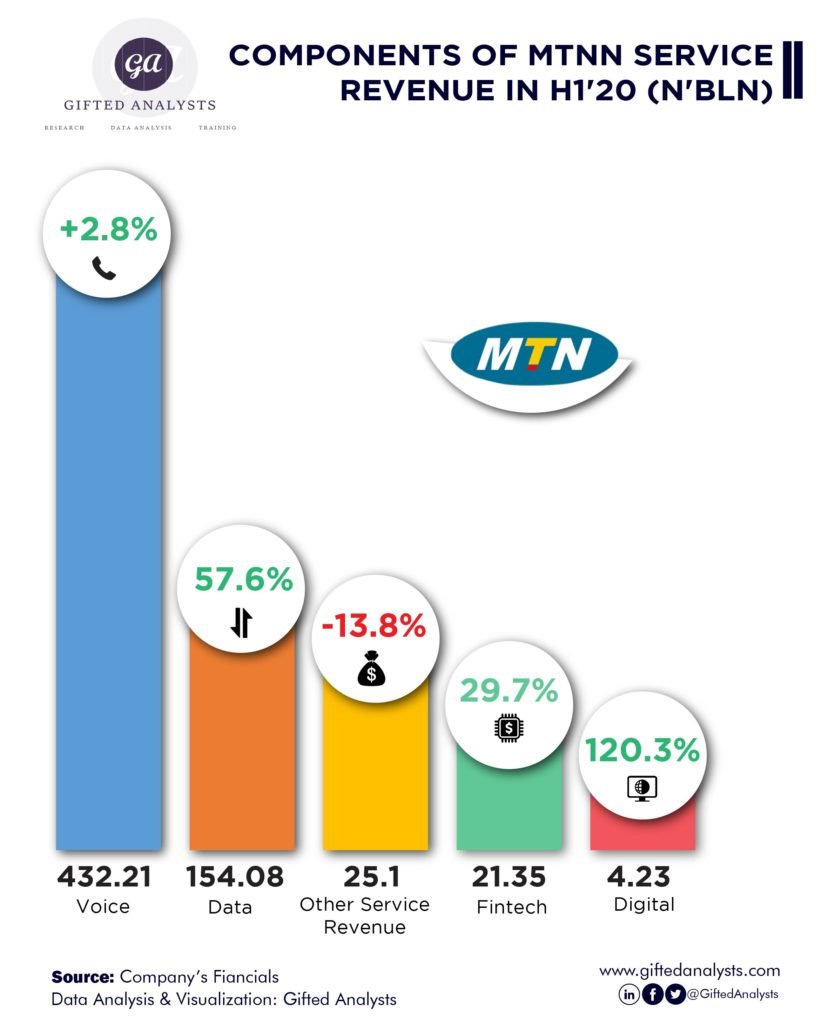 Revenue from its Digital service was driven by doubling users on its digital platform to 1.6m subscribers. Following demand from digital services (MTN MusicTime, Ads, educational services) during the stay at home directive which characterized the period. Consequently, digital revenue printed just 0.68% of total service revenue.
Growth in Data revenue was as a result of increased demand for data during the period. One of the obvious beneficiaries of the pandemic is perhaps the data subsector. MTNN added 3.8m new data subscribers within 6months (Jan-June,2020) taking its total active data subscribers to 29million. Although revenue from its data service accounted for 24.2% of total service revenue, traffic in data usage tripled by 141.2% bringing its smartphone penetration to 43.5% of its subscribers above the industry average of 41.23% (Nigeria broadband penetration as at June 2020).
Double digits gowth of 29.6% experienced in the Fintech service was led by its airtime lending service "MTN Xtratime". MTNN added 0.6m new users to its platform totaling users to 2.2m from 1.6m recorded in H1'19.
MTN Nigeria Service revenue has been led for decades now by revenue from its voice service. The platform accounted for 67.9% of the total service revenue generated. Growth in voice revenue slowed down growing just 2.8% (y/y) following restrictions placed in movements during the period and switch to internet-based voice call against the classic mobile voice call.
Despite healthy growth in revenue (12.5%), increment in expenses (17.5% y/y) outpaced revenue growth by 500bps. A rapid increase in expenses can be attributed to a troika of reasons; 1. Forex adjustment, 2. Cost of Covid-19, and 3. adjust made in VAT rate by 2.5% points and VAT non-lease payments.
Although less than 5% of MTN Nigeria debt is dominated in foreign currency, the company is still exposed to foreign exchange risk. Two consecutive devaluations of the Naira to ₦360/$ and ₦380/$ during the half (H1'20) will raise its cost of servicing its foreign debt thereby driving margins down. Increase in VAT which took effect from 1st February 2020 from 5% to 7.5% rose cost of operations. We believe the unprecedented costs accompanied by the coronavirus pandemic which included provisions for sanitary equipment also drove expenses up.
As expected, EBIDTA grew by 8.2% (y/y) to ₦327bn while EBITDA margin marginally decline by 2% points from 53.3% to 51.3%. PAT (Profit After Tax) recorded in the half totaled ₦94.9bn although -4.7% less than PAT declared in the same period 2019 (₦99.5bn)
Dupont Analysis
ROE (Return on Equity) declined marginally to 68.1% in H1'20 from 68.2% in H1'19. To understand what contributed to the decline, the ratio is viewed from its 3 sub-components; Profitability, Efficiency, and Leverage.
Net margin which is calculated by dividing Profit for the period (PAT) by Revenue, declined from 17.6% in H1'19 to 14.9% in H1'20. The 4.68% decline in PAT caused Net Margin to reduce, translating that of every ₦100 generated, MTN Nigeria made a profit of ₦14.9.
Asset turnover (Revenue/Total Asset) which measures how efficiently a company uses its assets to generate revenue in H1'20 was 0.37x. Due to the capital intensive nature of Telecos, this low rate is expected. Asset turnover declined marginally from 0.38x in H1'19 to 0.37x in H1'20.
Total assets divided by Shareholders' equity was used in computing the leverage ratio. H1'20 equity multiplier was 12.5, from 10.3 recorded in H1'20.
H2'20 Outlook
We expected growth in the Telecommunications sector to continue to print strong positive figures. Although economic activities have started to make a gradual recovery, work at home is still in vogue hence demand data, digital services to continue on a positive note.
With Telecos entering the PSB market, and MTN Nigeria expecting its license from the CBN, revenue from Fintech service is expected to increase.
Conclusively, we expect MTN Nigeria to maintain its position at the top with mild growth in market share.
For questions, opinions, corrections and contributions, please drop them in the comment section. You can as well contact the writer on Twitter @SheriffHolla
Additionally, should you need data backed research and analysis for your business or research needs, you can contact us by sending a mail to info@giftedanalysts.com