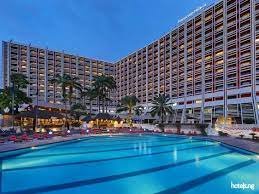 Transcorp Hotels PLC; Proven resilience amidst strong economic headwinds.
Its indisputable that the hospitality sector was one of the worst-hit by the covid-19 pandemic. This is a result of the lockdown, quarantine, and travel restrictions, which revolves around the core activities of the sector. The effects of the pandemic had shaped the traditional narrative of the hospitality sector. Digitalized guest experience, Staycation, Virtual/augment reality, personalization, etc., leveraged on the after-effects of the measures/policies by the government to gain its popularity in today's post Covid business era. Transcorp hotels PLC was not exempted as it recorded a downturn of 50% in its full year of 2020 revenue. Nevertheless, the firm has demonstrated strong resilience by outperforming it's pre-Covid records.
Valuation
We arrived at a target price of N24.6 per share on Transcorp hotel PLC based on a mix of two valuations metrics- the DCF model with an intrinsic share value of N27, and the DDM with an intrinsic share value of N22. We attributed a weight of 60% and 40% to each methodology, respectively, to arrive at our target price.
Estimating the risk-adjusted discount rate
We applied a WACC of 12.36% to discount the free cash flow to the firm. We also adjusted the company's capital mix, giving an optimum debt weight of 30% to the market enterprise value.
Cost of equity: A 13.16% cost of equity was estimated based on the capital asset pricing model using the following inputs;
a) Risk-free rate equals 10-year Nigeria government bond rate of 12.25%
b) Nigeria market risk premium of 9.68% gotten from Aswath Damadoran website.
c) A beta of 0.09 was obtained from a third party, Yahoo Finance.
Cost of debt: A cost of debt of 10.5% was estimated from the computation of Nigeria's corporate tax rate of 30% and Transcorp bond rate of 15%.
Download the full report below: