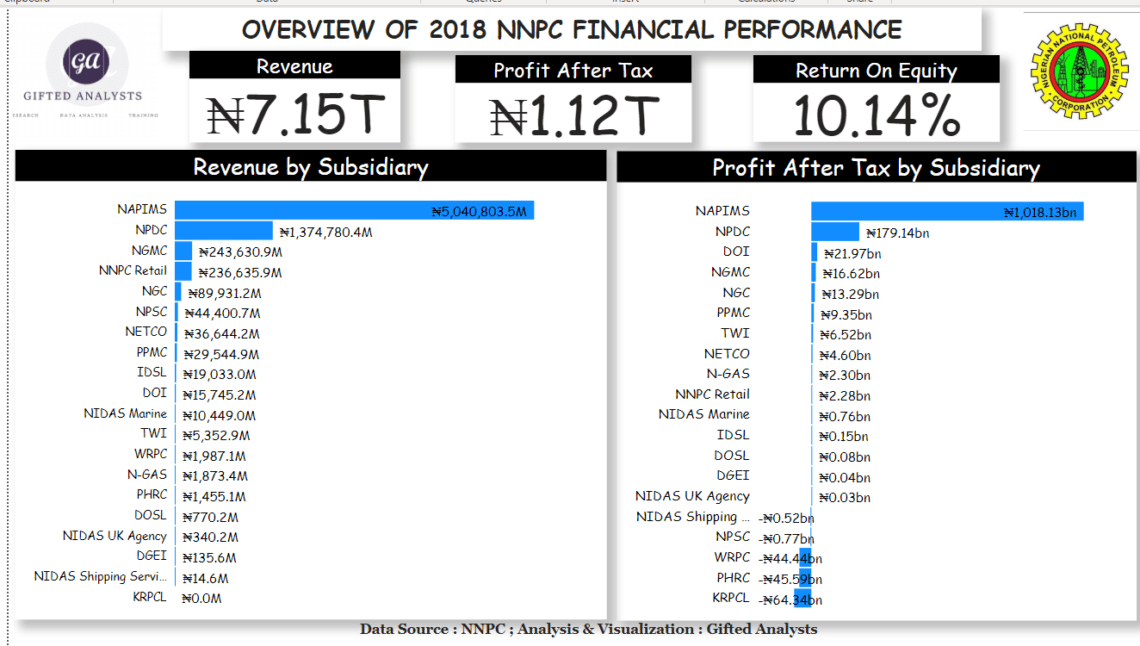 NNPC: Inefficient in its Core Business, Excelling in Non-Core Areas (1)
In 2018, the first time in 43 years, the NNPC released its audited financial results to the public. Although it was not consolidated, it was a step in the right direction as the report gave insight into the financial performance of the 20 subsidiaries under the group.
The NNPC executes joint operating agreements and other oil exploration and production operations on behalf of the Federal Government of Nigeria. With its 20 subsidiaries, the NNPC engages in services that include but not limited to oil exploration, oil refining, investment management services, shipping services, insurance, petroleum pricing regulation and distribution of natural gas, and trading of crude oil and other petroleum products.
This article provides a critical review of the financial performance of the 20 subsidiaries of the NNPC for the 2018 financial year. We also provide an aggregate figure for the Group based on the results of the 20 subsidiaries.
Aggregate Financial Performance
Caveat: We used exchange rate of N360/dollar for subsidiaries that reported their results in dollars, and exchange rate of N453/Pounds for subsidiaries that reported their earnings in Pounds sterling.
Based on our analysis, the NNPC group made N7.15 trillion in revenue for the year 2018 and the PAT was N1.12 trillion, translating to a profit margin of 15.66%. With total assets of N25.59 trillion and total liabilities worth N14.54 billion, total equity for the 20 subsidiaries in aggregation amounted to N11.05 trillion in 2018. Consequently, the Return on Equity for the year was 10.14% while the Return on Asset was 4.38%.
With total assets worth N25.59 trillion ($71.07 billion), NNPC group is the fourth largest company in Africa based on total assets, behind Standard Bank Group which has total assets worth $147.9 billion as at 2018, Absa Group with total assets worth $89.6 billion and Nedbank with total assets worth $72.6 billion.
Based on Return on Equity (ROE), PPMC appears to be the most resourceful with a ROE of 83.97% in 2018, followed by NGMC and N-GAS with ROE of 76.06% and 59.71% respectively. Of the 20 subsidiaries, 7 have ROE below 10.14% which is the Group's average while the remaining 13 have ROE above 10.14%.
In terms of ROA, PPMC tops with a ROA of 19.04% with NETCO coming through with a ROA of 11.60%. Kaduna refinery printed out the worst ROA (-587.78%), signifying the inability to make its assets productive.
We note that NAPIMS and NPDC which both generated the highest revenue for NNPC, both incurred the most cost in terms of general and administrative expenses. In line with revenue size, NAPIMS and NPDC both incurred the largest administrative cost for NNPC. While NAPIMS generated N5.04 trillion, it incurred N2.26 trillion in general expenses, accounting for 44.84% of the revenue. For NPDC, it generated N1.37 trillion in revenue while its general and administrative cost amounted to N160.24 billion during the period. For others, the correlation between revenue generation and general expenses was more of negative than positive. For example, while NGMC ranks third in terms of revenue generation, it ranks 10th in terms of general and administrative expenses. Kaduna refinery which did not generate revenue during the period, ranked 5th in terms of general and administrative expenses.
Duke Global Energy Investment (DGEI)
DGEI serves as proprietors and managers of fuel stations and acts as producers and dealers in all types of hydrocarbon and petroleum products. The subsidiary's revenue has nosedived, from N94.66 billion in 2014 to N135.58 million in 2018 (N191.91 million in 2015, N140.13 million in 2016, and N168.63 million in 2017). Administrative expenses have also declined in proportion over the years with the exception of 2016 when administrative expenses printed at N1.37 billion. It appears that the NNPC right-sized DGEI as the subsidiary went from a total comprehensive loss of N75.89 billion in 2014 to a total comprehensive income of N41.67 million in 2018.
Duke Oil Company Incorporated
Duke Oil Company Inc. reports its earnings in dollar and we used an exchange rate of N360/dollar to convert the earnings to the naira. In 2018, Duke Oil generated revenue (Gross transaction value of petroleum products sold) of $5.73 billion, representing 63.32% growth from the 2017 figure. Subtracting the $5.68 billion Gross acquisition value of petroleum products purchased, we arrive at a net revenue of $43.74 million for the 2018 financial year, a modest growth of 16.52% relative to 2017. Further analysis of the net revenue shows that crude oil contributed 29.29% to the total net revenue, refined oil products contributed 60.58%, and Oil bi-products contributed 9.95% while other income made up the rest for the period. Noteworthy is the fact that Duke Oil Company engages in the activities of trading crude oil and other petroleum products and was incorporated under the laws of the Republic of Panama. Currently, the company does not have any employees other than its directors.
The company however recorded a PAT of $61.03 million, a y-o-y growth of 39.52% which was driven by the recovery of bad debt to the tune of $25.23 million. This shows that the company did not necessarily grow its core business. Administrative expenses during the period was $5.94 million ($4.03 million in 2017). We also noted that the company did not incur any form of direct cost of sales in 2017 but recorded $2.46 million cost of sales in 2018.
Duke Oil Services (U.K) Limited
The Duke Oil Services Limited was incorporated and is domiciled in the United Kingdom. Its main purpose is to provide administrative services to Duke Oil Company Incorporated. Its financial statement is reported in Pounds sterling and in our analysis, we made use of the exchange rate of 453 naira to a pounds. Revenue for Duke Oil services amounted to £1.7 million (N770.197 million) in 2018, representing a significant growth of 89.19% when compared to the £898.70 thousand (N407.113 million) recorded in 2017. PAT came in at £174,118 (N74.88 million) during the period, amounting to a profit margin of 10.24%, an improvement on the 10.12% profit margin recorded in 2017. Net Asset during the period was also impressive at £898,947 compared to net assets of £694,829 recorded in 2017. The only fixed assets the company has is plant and equipment which was worth £8,368 (N3.79 million) in 2018 compared to the worth of £7,433 (N3.37 million) in 2017.
This article was written by the Research Team (Abdulazeez Kuranga, Okeowo Ebenezer, Sheriff Adeoti and Olorunsaiye Joshua), the analytics was led by Okeowo Ebenezer while Samuel Adebisi Edited it.
For questions, opinions, corrections and contributions, please drop them in the comment section. You can as well contact the writer on Twitter @K2ice_JR
Additionally, should you need data backed research and analysis for your business or research needs, you can contact us by sending a mail to info@giftedanalysts.com
NEXT
NNPC: Inefficient in its Core Business, Excelling in Non-Core Areas Part 2