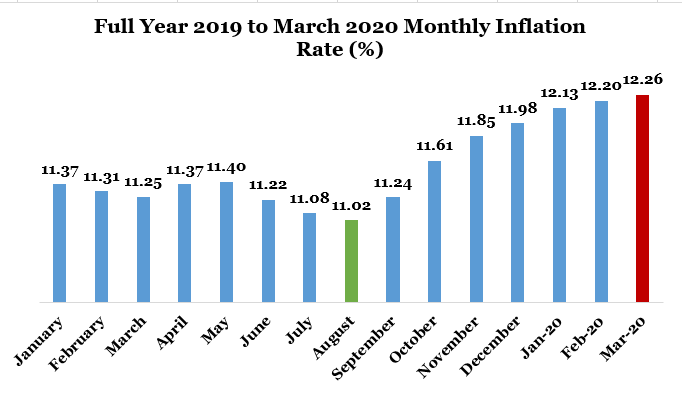 CPI Report for March 2020: A steady rise in inflation to 12.26%
The CPI (Consumer Price Index) calculates the average over time increase in prices of products and services purchased by people on a regular basis. The monthly Statistics released by the NBS stands at 12.26%.
March 2020 reports a 12.26% steady increase Year on Year from 12.20% in February 2020. Data obtained from the National Bureau of Statistics (NBS) shows an upward trend in inflation rate with 0.06 percent point increase from the preceding month. This is the seventh consecutive month of increase since August 2019(11.02%) and the highest level since April 2018 (12.48%).
In the same vein, the composite food index rose by 14.98% in March 2020 compared to 14.90% in February 2020 (Year on Year). The food sub-index increased by 14.98% in March 2020 from 14.90% in February 2020 (Y-o-Y). This rise in the food index is reported to be caused by increases in prices of Bread and Cereals, Fish, Potatoes, Yam and other tubers, Oils and fats, Vegetables, and Fruits.
Similarly, core inflation increased to 9.73% in March 2020 from 9.43% in February 2020 (Y-o-Y). The highest increases were recorded in prices of Passenger transport by air, Tobacco, Household textiles, Major household appliances, Domestic services and household services, Pharmaceutical products, Maintenance and repair of personal transport equipment, Water supply and Catering services.
Moving forward, a steady increase in inflation rate is expected due to the lock-down measures at combating COVID-19 in the country. Major increases are to be experienced in essential goods and services. Thus, we expect inflation rate to continue its rise in the nearest future following the trend as the country moves towards lean period of agricultural output, as well as disruption in supply chain caused by corona virus lock down order.