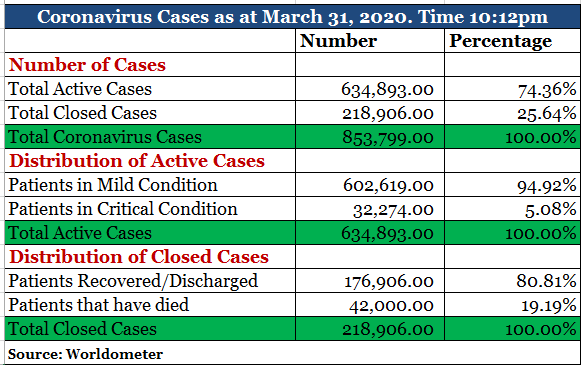 COVID-19: Why Nigeria is Likely to Record Increased Number of Cases in Coming Weeks
The Virus which was declared a global pandemic by the WHO on March 11, 2020, has had impact into all markets and economies of the world. With 853,799 cases recorded and over 42,000 deaths, it has a mortality rate of 4.92% as at March 31, 2020. It is now present in virtually all countries of the world with Europe as the center of the pandemic. Although the pandemic curve is relatively flattening in China (where it originated from), it is still on the rise in the European economy as well as the United States and the United Kingdom. In Africa, 47 countries out of the 54 countries on the continent have been hit with the pandemic.
South Africa announced a total lock down starting from Thursday 26th March 2020. The lock down was announced when the country had COVID-19 case ratio of 1 per 100,000 people, while Nigeria announced lock down in three states at about 0.001 per 100,000 people. The trouble with Italy was that it enacted a lock down at 12 cases per 100,000 people compared to China's lock down at 0.01 cases per 100,000 people. As such, if what experts said about lock down is to be believed, then Nigeria and South Africa have better chances of containing the pandemic than Italy.
South Africa recorded its first COVID-19 case exactly one week (March 5) after Nigeria's first case (February 27). However, the number of cases Nigeria has announced seems to be puzzling.
If South Africa records its first case a week after Nigeria (considering the time lag of 12 days before symptoms starts showing) and it has 1,353 cases as at March while Nigeria is at 135 cases as at March 31, then it means two things for Nigeria:
Nigeria is containing it very well
Nigeria is under-reporting as a result of not having enough testing.
If it is the first case and given that Nigeria and South Africa declared a lock down at an 'insignificant' number per 100,000 people, then Nigeria will be a role model to the world just the way China has 93.29 recovery rate (as at March 31) and it won't take long before the citizens start going about our daily business because she (Nigeria) will defeat it in time.
However, if it is the second case, then the following are expected to happen:
Nigeria will likely report record number of cases between this week and next week compared to previous weeks. This is due to the increased testing capability of the country thanks to donations in cash (by corporates and individuals) and kind (an example of GTBanks' 100-bed isolation centre on Onikan Stadium). NCDC will also expand its criteria for testing the citizens. More people will be tested and be positive.
The 14-days lock down will be extended as a measure to reduce the rate of infection.
Other states will also likely join in the lock down, thereby leading to a total lock down of the country.