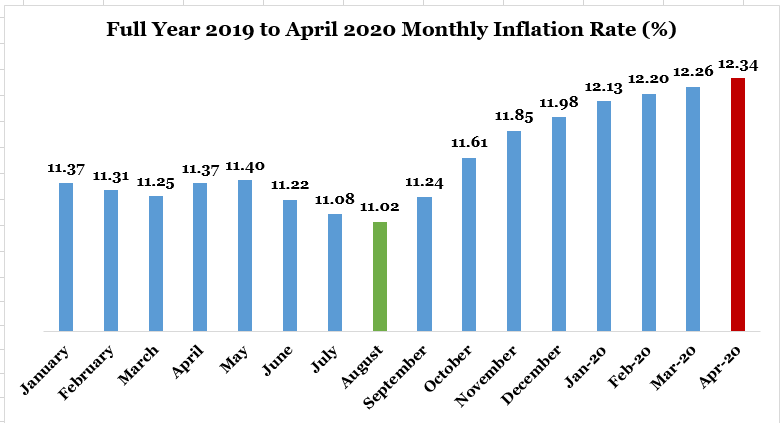 April 2020 Consumer Price Index Report: A continuous rise in Inflation
The CPI (Consumer Price Index) calculates the average over time increase in prices of products and services purchased by people on a regular basis. This index is used to measure the rate of inflation.
The consumer price index, (CPI) increased by 12.34% (year-on-year) in April 2020. This is 8bps higher than the rate recorded in March 2020 (12.26%). This is the eighth consecutive month of increase since August 2019 (11.02%) and the highest level since April 2018 (12.48%). The CPI could offer insights into the gross disruptions caused by the pandemic as well as the lingering effects of border closure even though we feel there is a lag effect particularly with the inflation rate in April which grew at a lower rate compared to analysts' predictions.
Although, gradual ease of the lockdown in various states and cities of the federation is taking place, economic activities are still below optimum. We believe this steady increase can be explained by the social distancing measures, dusk to dawn curfew taken by the government to slow the spread of COVID-19, which has reduced economic activity, disrupt the supply chain and consumer spending.
This steady increase in CPI translates to an increase in the cost of living of Nigerians. On average, if a goods cost NGN100 in April 2019, it means in April 2020, the consumer will actually pay NGN112.34 for the same commodity.
The composite food index which calculates changes in the prices of food items rose by 15.03% in April 2020 compared to 14.98% in March 2020. This rise in the food index was caused by increases in prices of Potatoes, Yam and other tubers, Bread and cereals, Fish, Oils and fats, Meat, Fruits and Vegetables.
The Core inflation, which excludes the prices of volatile agricultural produce stood at 9.98% in April 2020, up by 0.25% when compared with 9.73% recorded in March 2020. The highest increases were recorded in prices of Bicycles, Passenger transport by road, Passenger transport by sea and inland waterways, Paramedical services, Hospital services, pharmaceutical products, Medical services, Motorcycles and Major household appliances whether electric or not.
With the gradual ease of lockdown in major states like Lagos, Ogun, FCT, economic activities are beginning to come to life. Going forward, major price increases will be attributed to essential goods (consumer goods) mainly food as well as increase in cost of transportation as drivers now pass the burden of social distancing in the buses, to the passengers through increasing the bus fares. As such, Inflation rate is still expected to continue its rise in the nearest future following the trend as we are moving towards lean period of agricultural output.
Further, gradual ease of lockdown in major countries like Germany, United States and China would see the country exposed to imported inflation on goods that depend on foreign raw materials as well as final products being imported. As such, pass-through of trade restrictions, exchange rate weakening (official CBN rate NGN 361/$ and Parallel market rate as high as NGN 450/$) and the recent VAT increase (5% to 7.5%) are also expected to raise consumer prices.
For questions, opinions, corrections and contributions, please drop them in the comment section. You can as well contact the writer on Twitter @SheriffHolla
Additionally and should you need data backed research and analysis for your business or research needs, you can contact us with your message in the comment section or send a mail to info@giftedanalysts.com