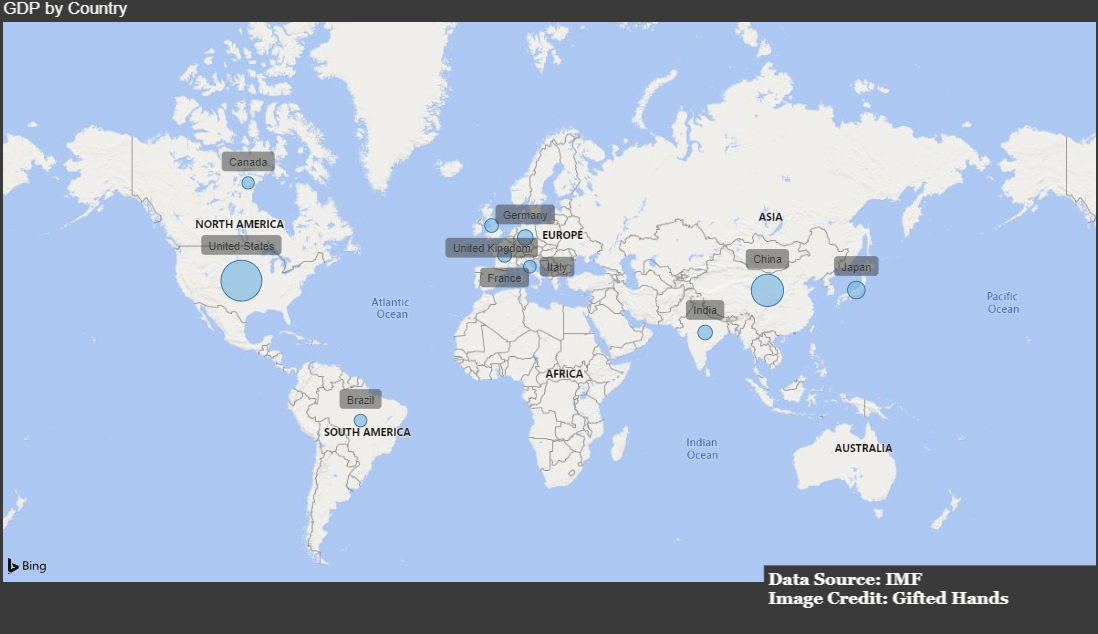 The World, Africa, West Africa and Nigeria's Economy in 2018
Image Credit: Gifted Hands
Introduction
In order to know the size of a country economically, then there is a need to measure the totality of all goods and services produced in that country over a given period of time. Therefore, the term "Gross Domestic Product (GDP)" comes into play. GDP is defined at the monetary value of all goods and services produced in a country by all citizens of a country over a given period of time. In calculating the GDP of a country, the monetary value of what its citizens living abroad produce is not taken into consideration but the monetary value of all things produced by foreigners living in the country is calculated. This is so in order to be able to get a true value of all commodities produced in a country whether by citizens or foreigners. The main idea is that the goods and services must be produced in that particular country.
In 2018, the International Monetary Fund (IMF) put the value of all goods and services produced in the world at $84.74 trillion with the United States as the largest economy in the world at $20.49 trillion which is about 51 times the size of Nigeria's GDP (Africa's largest economy).
This research therefore aims to give a break-down of the world economy in 2018 with specific focus on Lagos State, West Africa and Africa while giving insights into comparing different economies.
The World in 2018
According to the data obtained from the IMF, the world GDP grew by 5.7% to $84.74 trillion from $80.14 trillion recorded in 2017, and it is expected to grow to $87.27 trillion in 2019 (representing a growth rate of 2.98%). This shows that world GDP is expected to grow at a decreasing rate in 2019 (5.7% in 2018 compared to 2.98% in 2019). This is expected from the back of the trade war between the two biggest economies in the world- United States and China, which control 40% of world GDP.
Illustration 1: World Economy in 2018
As stated earlier, the world economy grew by 5.7% in 2018 and is expected to grow nominally by 2.98% in 2019, the slowest pace since the global financial crisis about a decade ago. Thus, the monetary value of world economy in 2018 was $84.74 trillion of which United States and China alone control $33.9 trillion, representing 40% of world's GDP.
Illustration 2: Top 10 Economies in the World in 2018
In 2018, the top 10 world economies controlled 49.1% of world GDP with their total value at $56.85 trillion and they are listed in the table below:
| | | |
| --- | --- | --- |
| S/N | Country | GDP ($'bln) |
| 1 | United States | 20,494.05 |
| 2 | China | 13,407.40 |
| 3 | Japan | 4,971.93 |
| 4 | Germany | 4,000.39 |
| 5 | United Kingdom | 2,828.64 |
| 6 | France | 2,775.25 |
| 7 | India | 2,716.75 |
| 8 | Italy | 2,072.20 |
| 9 | Brazil | 1,860.18 |
| 10 | Canada | 1711.39 |
Source: IMF
Of the 193 (excluding Syria which does not have official GDP records) countries in the world, no African country entered the top 30 economies of which Nigeria which is the largest economy in Africa occupied the 31st position with a nominal GDP of $397.27 billion, right behind United Arab Emirates ($424.64).
The Economy of Africa in 2018
With a combined GDP of $2.34 trillion in 2018, the United States economy is about 9 times more than the economy of all the 54 countries in Africa. Also, the 2018 GDP of Africa represents just 2.8% of world's GDP even though Africa has about 7 countries out of top 10 countries with the fastest GDP growth rate in 2019 (of which Ghana, Ethiopia and Rwanda are notable countries among).
Illustration 3: African Economy in 2018
Just as the United States and China, Nigeria and South Africa represents the two largest economies in Africa controlling approximately 33% of the Continent's GDP as Egypt was the third largest economy in Africa in 2018 with a GDP of $249.56 billion. Ironically, the two largest economies in Africa are the ones currently dragging down the growth rate of the economy as their 2019 GDP growth rate is below the world's growth rate of 3% and Africa's growth of 3.2%. For example, the economy of Nigeria grew by 1.94% in the second quarter of 2019 as its population growth rate remains above 3% which means that goods and services produced in the country will always not be enough to cater for the need of the growing population. That said, Sao Tome and Principe represents the smallest economy in Africa at a GDP of $0.45 billion (N161.64 billion) which is not up to IGR of Lagos State alone.
The West African Economy in 2018
In 2018, the combined GDP of the 16 countries in West Africa was put at $605.06 billion with Nigeria controlling approximately 65% and Ghana controlling 10.6% with a GDP of $65.19 billion. Guinea Bissau represents the smallest economy in West Africa at $1.46 billion.
Illustration 4: Economy of West Africa in 2018
It is also worthy to note that the Nigerian economy is bigger than the economy of the other 15 West African countries combined. While the combined GDP of the other 15 West African Countries was $217.81 billion in 2018, that of Nigeria alone was $397.27 billion.
Comparing Lagos State Economy with other Countries in Africa
According to the IMF, Lagos state nominal GDP in 2018 was $136 billion in 2018 and it is expected to grow by 4% ($141.44 billion) in 2019. If Lagos state was a country in Africa, then it will be the fifth largest economy in Africa behind Nigeria, South Africa, Egypt and Algeria. In West Africa, the GDP size of Lagos state will be about three times the GDP of Ghana, thereby being the second largest country in West Africa. This shows that Lagos state is the GDP capital of Nigeria because it constitute 34% of Nigeria's GDP which is approximately 1/3 of the country's GDP. Take away Lagos state from Nigeria and all that remains will be a struggling Giant of Africa.
Conclusion
The trade war between China and the United States is of public knowledge and the GDP figures have established why this will affect the rest of the world, thereby leading to a low growth rate in production activities all over the world. Particularly, oil producing countries will feel the heat provided that the majority of their earnings is from the exportation of crude oil.
Despite its dominance in Africa in terms of GDP, Nigeria's per capital income is low majorly due to the level of its population and a few controlling the majority of the production process in the country. Also, Nigeria's economy is about 65% of the entire West African economy and up to 20% of Africa's economy, yet trade to the continent and West African countries have been at a low. According to the figures obtained from the NBS, total trade to the rest of Africa is estimated at about 14% while about 5% of its entire trade is exported to other West African Countries.
In our subsequent research works, we hope to provide answers to the reasons Nigeria cannot leverage on its GDP to be a force to reckon with in trade on the African Continent, particularly in West Africa.
Download the International Monetary Fund, World Economic Outlook Database, April 2019 here
For further clarifications, enquires and questions, please provide your feedback in the comment section or send us a mail at giftedhandsassociate@gmail.com
About Gifted Hands Associate
Gifted Hands is an Independent Economic Research Group that carries out independent research on data as released by the relevant government agencies (NBS, CBN, DMO, World Bank and IMF). It also assists and provide tips to undergraduates and Postgraduate students carrying out economic research work. Gifted Hands also write business plans/proposals, project financials of start-ups into the future, write CVs and cover letters, as well as Train students on the use of Economic Analysis software such as Eviews, STATA and SPSS.