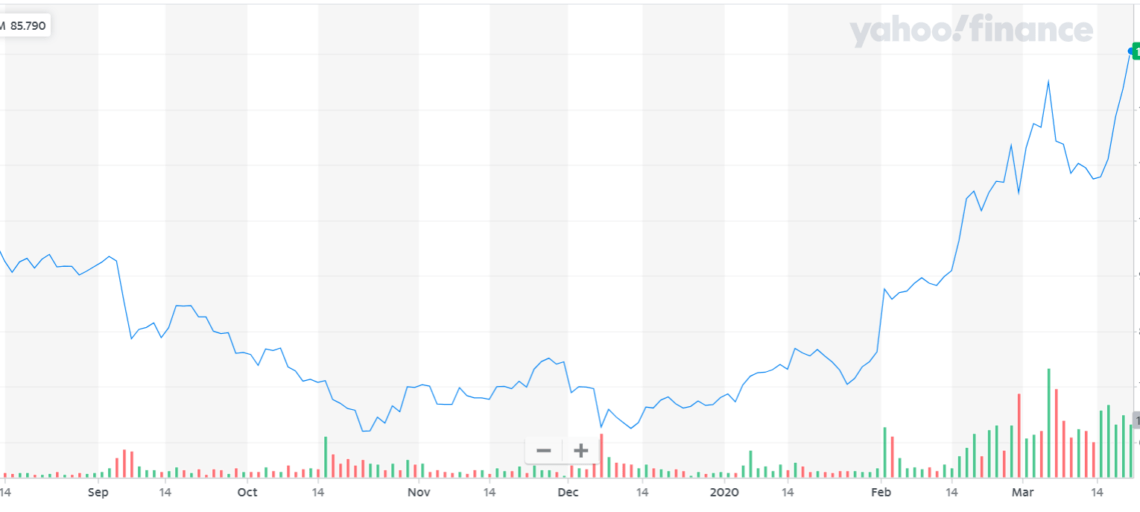 The Biggest Gainers in the Coronavirus Economy
As a result of the outbreak of COVID-19, countries have restricted the movement of its citizens. In California, the residents have been advised to stay at home and only can go out when it is absolutely necessary. Italy and France have also ordered a total lock down while different countries such as the United States, Canada, Morocco, Egypt, Nigeria, have ordered the travel ban on international tourists and non-citizens to prevent the pandemic from spreading. This translates to more than 2 billion citizens staying at home. As such, the following sectors/companies are gaining and still gaining from the Coronavirus Economy:
Internet Service Providers- As a result of citizens staying at home, then the need for using the internet increases as this will not make them to be bored. It will also enable them have something doing. Also, workers have been told to work remotely in some industries. This increases their need for internet more than they were using before because they might be distracted at some points to watch videos online as well as do other things related to the internet.
Source: Sandvine
According to the 2019 mobile internet report, 65% of worldwide mobile downstream traffic is in form of videos while about 12% comes from social media. According to CNN editorials, Netflix and Youtube are slowing down in Europe to keep the internet from breaking. As this constitute pressure on internet service providers, it translates to surge in revenue as a result of increased demand for internet services.
Wireless Telecommunications- Wireless telecommunication companies are also expected to experience surge in the demand for their products. This is because citizens will prefer the use of their products to ease their daily life activities. According to Mike Robuck, among the video conferencing companies that stand to profit from the coronavirus outbreak are Cisco Webex, Zoom, Slack, Microsoft Teams, and Google Hangout Meets. For example, Month to Date, the share price of Zoom has grown by 15% to N130.55 as at March 20. Zoom currently has about 235 vacancies in sales, marketing, support, HR, engineering and Finance.
Trend in the Share Price of Zoom Video Communications
Manufacturers of Masks and Sanitizers- Since the outbreak of the pandemic, there have been increased demand for masks and sanitizers to keep citizens safe. The personal hygiene level of individuals have also increased and this translates to more revenue for masks and sanitizers manufacturers because they tend to produce more as a result of increase in price caused by the increase in demand. In India alone, the sales of Masks increased by more than 100% to about 1.2 million in February from the usual monthly average of around 600,000. The same for sanitizers and hygienic products as demand has grown more than 10 times in the past one month. This led to a surge in price of masks from $2.03 to about $7 at the beginning of March. In Nigeria, the CBN will be granting naira and FX funding facilities to major pharmaceutical companies such as Glaxosmith, Fidson Health care, Neimeth and Swiss Pharma, in order to support them with the procurement of the materials needed to fast track the local production of drugs in the country.
Related: Demand for Sanitizers, Masks at a Fever Pitch
Life and Health Insurance Companies- It is expected that health and life insurance companies will see a boost in gross premium written due to the high number of people coming to insure their health so as to protect themselves from future occurrence that may arise, especially as it relates to COVID-19.
Jobs that enable quarantine practices such as ecommerce fulfillment, video communication as well as food delivery are also growing significantly, especially with Amazon hiring 100,000 employees and Walmart increasing its number of employees by more than 150,000. Another example is the largest pizza company in the world- DOMINO, announcing job openings (delivery people, customer service representatives, managers, pizza makers as well as assistant managers) globally in order to fulfill the demand of the people at this critical time.